Since 1938, the American Library Association has awarded the Caldecott Medal to the artist who created the most distinguished "American Picture Book for Children" published in the United States during the preceding year. The medal is named after British illustrator Randolph Caldecott (1846-1886). Caldecott had a significant impact on the illustration of children's books during his time and published sixteen books of nursery rhymes and poems for children between 1876 and 1885. The American Library Association states that Caldecott's illustrations "were unique to their time in both their humor, and their ability to create a sense of movement, vitality, and action that complemented the stories they accompanied." We have three books illustrated by Randolph Caldecott in the Archives & Special Collections: The Three Jovial Huntsmen, The Diverting History of John Gilpin, and The Owls of Olynn Belfry.
The Three Jovial Hunstmen (1880) is a version of an old Lancashire County rhyme which had been circulating in England for centuries. An odd fun fact about this book – Beatrix Potter's father purchased the original illustrations for this book in 1884 for 80 pounds! Potter was a children's book author and illustrator herself, famous for the "Peter Rabbit" series.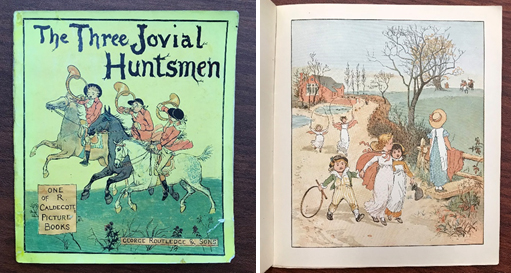 The Diverting History of John Gilpin (1878) is notable because the illustration on the front cover of John Gilpin on a runaway horse is replicated on the front of the Caldecott Medal itself. This is also the only one of Caldecott's 16 books that contains full color double page pictures, the process of which ultimately proved too costly to reproduce cheaply. Caldecott's books were sold for only one shilling each.
The Owls of Olynn Belfry (c. 1885) was illustrated by Caldecott but written by an author identified only as A.Y.D. This book is of interest because many of the scenes and people depicted by Caldecott were from Chelsfield, Kent in England, the home of his wife, Marian Brind.
Head to the Archives & Special Collections to see these and other children's books from the 19th and 20th centuries!
The Archives & Special Collections is open on Mondays, Tuesdays, Wednesdays, and Thursdays from 10:00 a.m.-3:00 p.m. or by appointment.
By  Laura Edgar