In August 2019, the Archives & Special Collections received a Washington Digital Heritage grant to digitize, transcribe, and make available online nine journals written by the artist Abby Williams Hill (1861-1943). These journals focus on Hill's travels throughout the United States between 1895 and 1906 and provide a unique female perspective on significant issues affecting the nation at that time, including education, tourism, and the rights of women, African Americans, Native Americans, and the working class. Over the next few weeks, we'll be using the blog series to highlight each of the journals and their significance for researchers. Abstracts for all of the journals can be found here.
---
Abby Williams Hill is well known throughout the Pacific Northwest for her talent as a landscape artist whose paintings depicted the beauty and grandeur of our region. She was born in Grinnell, Iowa but moved to Tacoma, Washington with her husband Frank in 1889, the same year that Washington became a state. Fiercely independent, Hill eschewed the fashions and pastimes of women in the early twentieth century for a life spent hiking in the wilderness and traveling with her four children while her husband Frank remained at home in Tacoma. She described herself as a woman who was "cut out for the wilds," and her journals contain hundreds of pages devoted to her camping expeditions and adventures.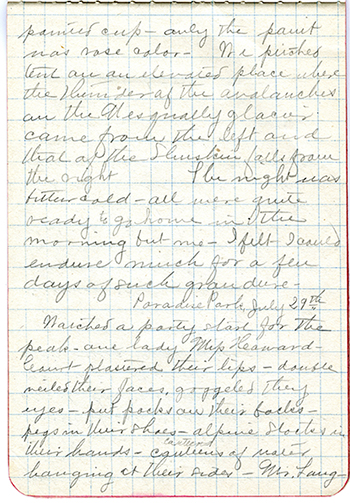 The earliest journal in the Hill collection is from 1895, when she joined a 26-day camping expedition to Mt. Rainier. This was her first real experience "in the wilds" and it was quite an adventure. Hill titled one entry "Camp Misery" as she described battling "hordes of mosquitoes and gnats" and sleeping on a "bed of stone." In another, titled "Camp Terror," she records how terrified she and her companions were when someone tried to steal their horses in the middle of the night. But Hill also writes about the beautiful scenery that inspired her – the wildflowers, waterfalls, wildlife, and other sights and sounds of the wilderness. One day, after visiting Carter Falls and Narada Falls, she wrote: "The night was bitter cold. All were quite ready to go home in the morning but me. I felt I could endure much for a few days of such grandeur."  Later, while near Paradise, Hill said, "Mountains all around, sunset and moonrise, wind through the trees, crash of avalanches and roaring of falls…I think we all felt very near to God for being so surrounded by his beautiful works."
Immediately upon returning home from Mt. Rainier, Hill set out on an 11-day trip to the Hood Canal with friends. There she embarked on long hikes and sketched the scenery. Of one foray into the wilderness, Hill wrote: "After the pools came the wildest scenery and the most severe climbing up rocky sides, over boulders and under them, across the streams on logs, many feet above the whistling torrent, and at last seated to sketch in a place where the roar [of the waterfall] was so great I could not make my companion on the next rock hear my voice…It is thought no woman had ventured as far as I did today."
Hill's journals provide a rich and varied resource for scholars of all ages. Check back next week for the next installment in our series…Hill's journal from a summer spent on Vashon Island in 1900.
The Archives & Special Collections is currently unable to host in-person researchers. If you need assistance or would like to set up a virtual appointment, please email us at archives@pugetsound.edu.
By Laura Edgar, Assistant Archivist & Archivist for the Abby Williams Hill Collection