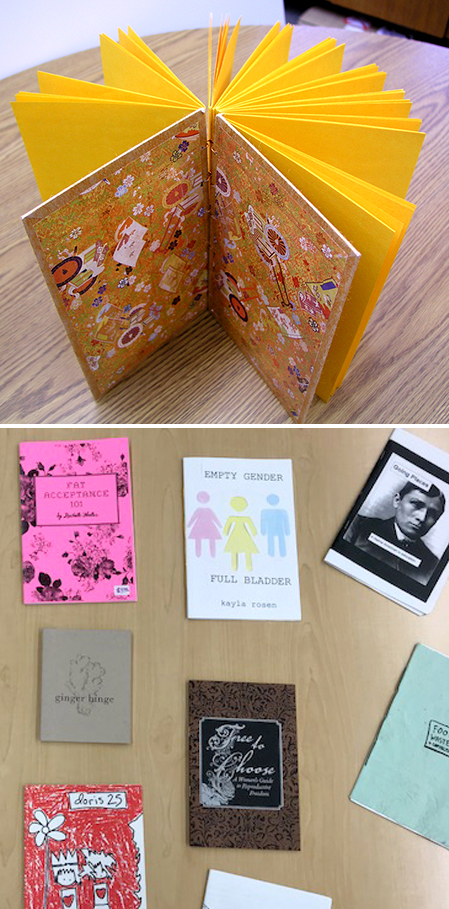 Welcome back, Loggers! We are happy to have you back on campus and are looking forward to working with many of you in the Archives & Special Collections this semester. Our open hours have changed a bit for spring. You can drop in to the A&SC on Tuesdays, Wednesdays, and Thursdays from 11:00 AM to 3:00 PM. If you are unable to make it during that time, you can always schedule an appointment with us outside of those hours by emailing archives@pugetsound.edu.
We have some exciting new items available for viewing in the A&SC. We recently completed finding aids for two of our manuscript collections – the Collins Library Zine Collection and the Ken and Rochelle Monner collection of Shereen LaPlantz book structures. The zine collection contains approximately 250 zines that cover a wide breadth of topics, including local and national issues, politics, personal narratives, popular culture, activism and social justice, environmental justice, queer identities, feminism, race, and more. The Shereen LaPlantz collection features more than 100 artists' book structures created by LaPlantz, an internationally recognized artist, author, and teacher.
In addition, we have also purchased several new artists' books. Artists' books are often identified as handmade, limited edition or one-of-a-kind objects that employ innovative binding structures and handmade papers. We have several hundred artists' books in the A&SC, many of which address social justice issues. This month we acquired "Shoot to Kill" by artist Ann Kalmbach, which asks the question "Did you ever wonder why police targets are torsos?" and includes abandoned targets from police shooting ranges.
Lastly, we've received many interesting records from our university departments. Gender & Queer Studies transferred records to the A&SC that date back to the beginning of their program in the 1970s, when it was known as Women's Studies. We are currently in the process of organizing those records for use by students and faculty. Student Activities sent records relating to Outdoor Programs, including the Passages planning materials.
This represents a small portion of the many materials that we've received in the A&SC over the past couple of months. The A&SC is actively collecting records, so please contact us if you think you have materials that we might be interested in!
The Archives & Special Collections is open Tuesday, Wednesday, and Thursday from 11:00 AM to 3:00 PM or by appointment.
By Laura Edgar