Are you following the Archives & Special Collections on social media yet? If not, you should be! We created Twitter and Instagram accounts last fall where we post information about interesting items from our collections, historic photographs, and reminders about upcoming events. We also have an active Tumblr account that is run by our A&SC Peer Research Specialist (student Julia Masur '19) and has been in existence for several years. It has been really fun to interact with current students and alumni on our social media accounts, and we've even gotten responses from several Puget Sound alums who are now archivists themselves!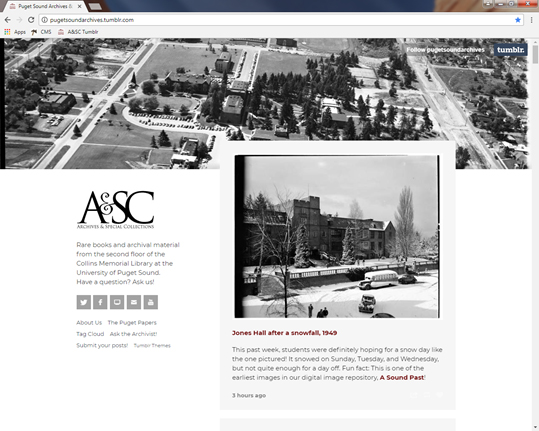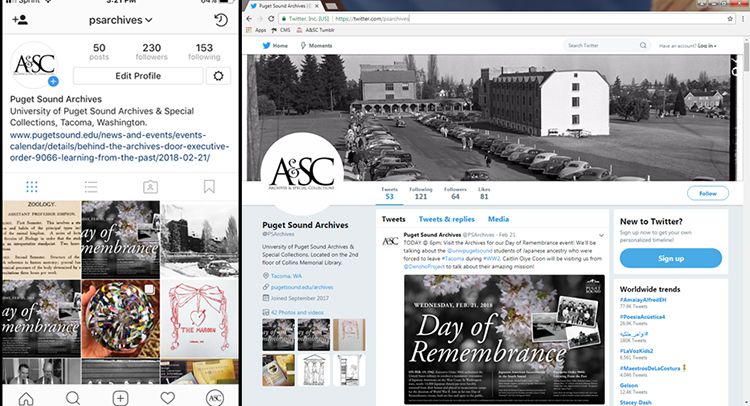 In addition to interacting with the Puget Sound community, we are enjoying following other archival repositories on social media. It is interesting to see other archivists post about how they are using archival materials in the classroom, the events they are organizing, and the types of collections that they are responsible for. Social media is a great way to connect with people on campus and beyond and we look forward to sharing more pieces from our collections with you!
The Archives & Special Collections is open Mondays through Thursdays from 10:00 AM to 3:00 PM or by appointment.
By Laura Edgar, Assistant Archivist