Welcome back! My name is Laura Edgar and I am the Assistant Archivist in the Archives & Special Collections (A&SC) here at Puget Sound. I started working in the A&SC in 2012 as the Archivist for the Abby Williams Hill Collection, but officially started my job as Assistant Archivist this summer. I only work part time so I am here in the archives on Mondays, Wednesdays, and Fridays from 9:00 AM to 5:00 PM.
As Assistant Archivist, I am primarily responsible for assisting researchers, processing our collections, and overseeing digitization projects that are happening in the archives. The A&SC has open hours on Mondays, Tuesdays, and Wednesdays from 12:00 PM to 3:00 PM and I am here during that time to help provide access to our materials for the researchers who are using them. I enjoy interacting with the students, faculty, staff, alumni, and scholars who visit the A&SC and I always learn a lot about the content of our collections in the process of assisting researchers.
I also process the collections that we have in the A≻ processing is my favorite part about being an archivist. Processing, in archival terms, refers to the arrangement and description of records that are in our care, with the ultimate goal of providing access to researchers in the form of a finding aid. A finding aid is an inventory of the collection. Basically, we receive records from university departments and donors in a variety of conditions and it is my job to organize those records in a way that makes sense, put them in appropriate archival folders and boxes, and create the inventory that we ultimately post online, thereby providing access to researchers. That means that I get to look at all of the items in a collection so it gives me a great in depth understanding of what materials we have. While processing collections, I think about how the documents, photographs, and ephemera I am looking at might be used in teaching here at Puget Sound.  The Archivist & Special Collections Librarian and I both teach classes using materials from the A&SC, so that is always on our minds!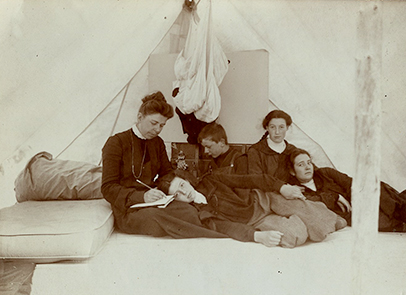 In addition to my varied duties as Assistant Archivist, I am still responsible for all activities and inquiries related to the Abby Williams Hill Collection. This collection documents the life and times of a female landscape artist and activist during the 1800s and early 1900s. Hill's detailed diaries and correspondence provide a female perspective into significant issues that were affecting the nation as a whole, including the westward movement, African-American and Native American rights, early childhood education, and the preservation of federal lands. I teach class sessions related to Hill, curate exhibits, respond to research questions, and digitize materials from the collection. It has been really fun to learn about this unique woman through her own writings.
I look forward to meeting you in the Archives & Special Collections very soon!
The Archives & Special Collections is open on Mondays, Tuesdays, and Wednesdays from 12:00-3:00 p.m. or by appointment.
By Laura Edgar