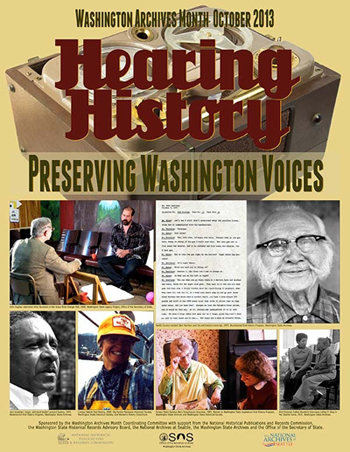 Throughout the country, we celebrate Archives Month in October.  This is an opportunity to celebrate our written and oral history.  Visit the Washington State Archives Month website and browse President Thompson's oral histories with Puget Sound faculty from the 1940s-1970s.  These interviews provide details of challenges, successes, and life at Puget Sound during President Thompson's time at the University.
This month Puget Sound celebrates Archives Month with these events:
Tuesday, October 15th, 4:00pm, Beau Beausoleil, curator and poet of The Al-Mutanabbi Book Arts Exhibit will discuss his work outside of the Archives & Special Collections on the second floor of the Collins Library.
Friday, October 25th, from 2:00 – 5:00 p.m. the Archives & Special Collections will hold an Open House, feel free to stop by and browse the collections!  At the end of the Open House we will formally "seal" our 125th Anniversary time capsule!
A small exhibit featuring material from the Doug Edwards papers is on display near the circulation desk.  This exhibit was curated by student archivists Maya Steinborn '14 and Morgan Ford '17.