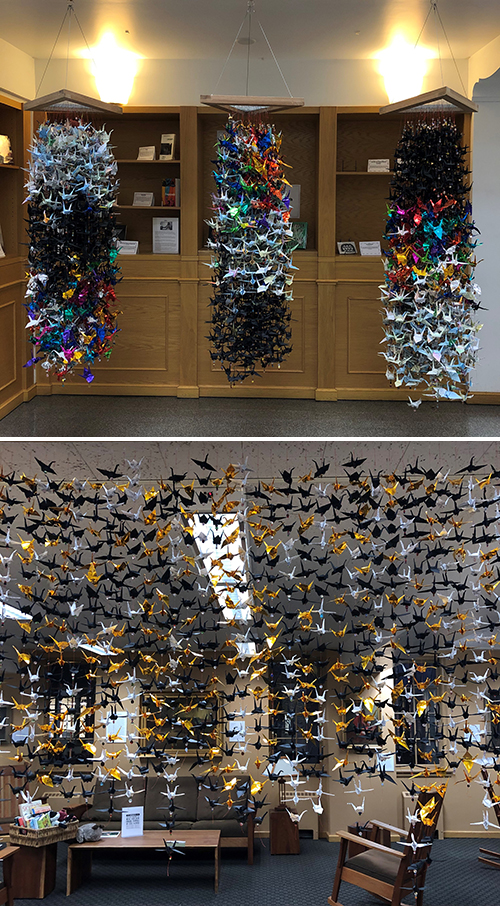 Have you seen the beautiful paper cranes installed in the front of the library? The cranes were created by Clarissa Sligh, an African American artist and essayist who combines photography and text into powerful narrative artworks, artist books, and installations that explore memory, identity, transformation, and perception. Sligh's website describes her experience at age 15 as the lead plaintiff in the 1955 school desegregation case in Virginia (Clarissa Thompson et. al. vs. Arlington County School Board). Sligh writes that "from that moment forward, her work as a student and as a professional…takes into account change, transformation, and complication."
If you are interested in seeing more of Sligh's work, the Archives & Special Collections holds six of her artists books: Transforming Hate: An Artist's Book, What's Happening With Momma?, Reading Dick & Jane with Me, Wrongly Bodied: Documenting Transformation from Female to Male, It Wasn't Little Rock, and Voyage(r): Tourist Map to Japan.
The book Transforming Hate evolved from a project in which Sligh folded paper cranes from the pages of white supremacist books for an exhibition organized by the Montana Human Rights Network in 2008. Wrongly Bodied tells the stories of Jake, a contemporary white male imprisoned in a woman's body as he transitions from female to male, and of Ellen Craft, a 19th century black slave woman who escapes to Philadelphia from Georgia by passing as a white male slave owner. Reading Dick & Jane with Me was created by Sligh to interrupt the authority of elementary school textbooks from the 1940s and 50s known as "The Dick and Jane Readers," which portrayed a white upper middle class suburban family. As a young girl reading these books, Sligh felt that these depictions must mean that her family was an aberration outside of normal family life in America.
If you'd like to see Sligh's artists' books, please visit us in the Archives & Special Collections.
The Archives & Special Collections has drop-in hours on Monday, Tuesday, and Wednesday from 11:00 AM to 4:00 PM or is open by appointment.
By Laura Edgar, Assistant Archivist