After spending d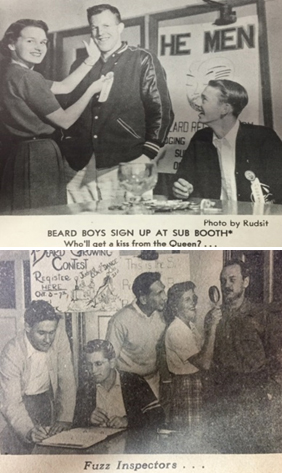 ays in the Archives & Special Collections organizing copies of the Trail, I came across many interesting articles about the University of Puget Sound. Being a freshman, I am unaware of many of the traditions that occur on campus and even more clueless about the history of UPS. However, after reading multiple Trail stories, I can now say that I have gained knowledge on both of those topics.
One of the most entertaining historical traditions I came across was the beard growing contest. This event would take place during homecoming week when the men on campus would put down their razors for seven days and try out a new look. When the week was up, judges would regard the "Redbeards, Blondbeards, and Blackbeards" and the "redest, blackest, heaviest, and scrawniest" would be awarded prizes. The man with the blackest, thickest beard would receive a kiss from the homecoming Queen.
In the 1950 beard-growing contest, the scruffy men caused some trouble when a photographer attempted to take their fraternity pictures. Every fella that sat down to get his picture taken was denied by the photographer because of the slight fuzz that had begun to grow on his face. The fraternity pictures all had to be rescheduled for a later date when the men were clean shaven.
Maybe this homecoming week the guys should try out this old tradition to see who has the best beard of them all.
By Sierra Scott