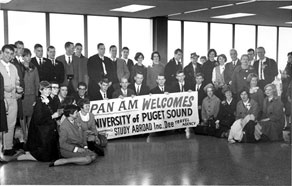 As we wrap up the semester, the Archives & Special Collections is thrilled to announce that A Sound Past now holds over 3,000 images documenting the history of the University of Puget Sound.  The Archives & Special Collections holds about 20,000 photographs in the form of prints, slides, and negatives, the majority of which have little to no information about the people, places, and events seen in them.  Thanks to the hard work, dedication, and professional sleuthing of John Finney '67, the vast majority of the photographs in A Sound Past now have detailed information on the events, people and places in each.
This semester John added 637 new images almost exclusively from the 1953-1954 academic year.  These images document the opening of the music building; homecoming (including queen and king selection, the downtown parade, football game, dance, and more); registration for classes in Memorial Fieldhouse; several home football games; the freshmen "hot seat;" the installation of national Alpha Phi and Chi Omega sororities; the Frosh One-Acts; Deep Creek Lodge; the Sadie Hawkins dance; faculty portraits; the Christmas play; the international relations club; Adelphian Concert Choir Christmas parties; the Madrigal Christmas concert; Burmeister Oratorical Contest winners; freshman and sophomore class officers; and more, much more.
In the spring, John will participate in the Behind the Archives Door series to share how he uncovers information on each photograph he encounters.  Stay tuned for more details!
To try your own hand at solving mysteries from the photograph collection, visit our unidentified photographs, and email archives@pugetsound.edu, with anything you discover!