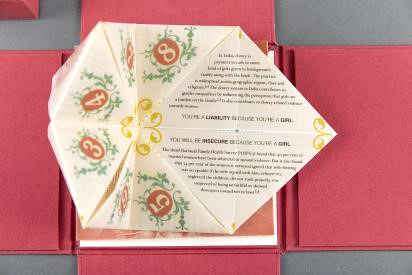 Meet artist Malini Gupta whose book, The Fortune Teller, is included in the exhibit Changing the Conversation. As the artist states, "through this work I seek to investigate the deeply entrenched gender biases that plague the Indian society. It is comprised of two parts: part one is the game of Fortune Teller; part two is my personal childhood story. The Fortune Teller – an unassuming childhood game that predicts your future based on choices you make. As the viewer interacts with this seemingly benign and innocuous game they are confronted by the cold, hard statistics of gender inequality in India. For the second part of the piece, I narrate my first hand experiences of growing up in India. "
Malini will discuss this work and others as well as her work as the Creative Director of OCHRE Art and Design in Portland.
Originally from India, Ms. Gupta moved to the US to study Communication Design at Pacific Northwest College of Art, Portland, Oregon. What started as a thesis project for her design degree, making artist books has now become her passion and profession. Her interest in artist books also led her to pursue a Post Baccalaureate degree in Book Arts at Oregon College of Art & Craft. Ms. Gupta's work is collected by numerous private collectors and public institutions in the US and Europe. She is a recipient of a number of awards and honors for her books and graphic design work. Recently, her work was published in 500 Handmade Books, and reviewed in The Times of India. She's also a freelance graphic designer. She is also Creative Director of OCHRE (Art and Design).