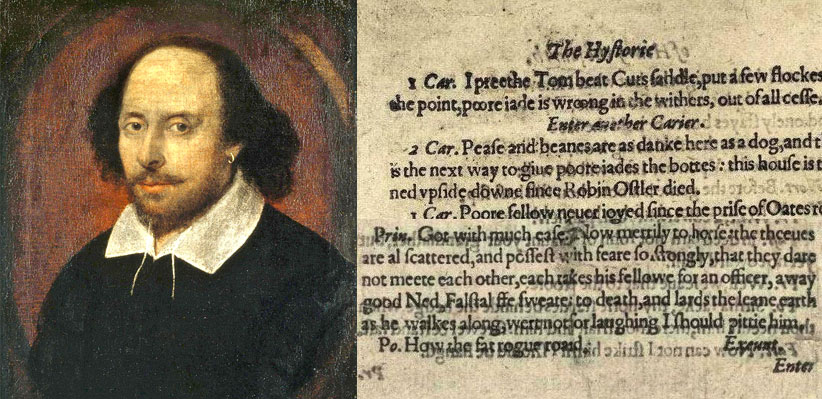 In honor of William Shakespeare we are celebrating the 400th anniversary of his death on April 23, 2016. What better way to do this, than by highlighting the writing done by first-year students in Associate Professor of English John Wesley's first-year seminar, A Year in the Life of William Shakespeare? This first-year seminar in scholarly inquiry studies four remarkable plays Shakespeare wrote or saw into production in 1599, the same year he opened the Globe Theatre. In the first half of the course, students were introduced to the myriad ways in which Shakespeare's 1599 plays are shaped by and give shape to the political and cultural intrigues of that year. In the second half of the course, students turned to a play (and year) of their own choosing, the historicist analysis of which is the basis of an independent research project. As part of this project, students were asked to prepare a blog post that reflected on aspects of Shakespeare's life, a specific work, or a resource or organization associated with Shakespeare, or to provide a personal interpretation of a play. During the month of April, we'll feature the posts from students that celebrate all things Shakespeare!

Congratulations to our wonderful first-year writers. For additional online resources about Shakespeare, check out these sites:
Girl Bosses through the Lens of Shakespeare
By Kendall Aresu
I don't know about you, but I would hate to be a woman in the 16th century. All these expectations of what it means to be a woman is enough to fire up the feminist in anyone. One can only imagine the upheaval that was caused by a single female taking the throne. Thankfully, Elizabeth I of England was influential in a multitude of ways. From shedding light on the arts to bringing a new view of what it means to be a monarch, Elizabeth was present in almost all of the accounts of England during this time. William Shakespeare, not unlike many writers at this time, seeped the societal concerns of Elizabeth into his plays.
By creating many different female roles but never making them royalty shows Shakespeare's and also the Elizabethan people's view of what it meant to be a woman. The female characters in Shakespeare's play are mostly used as a symbol of sympathy for the audience. The one character that defies this weak feminine image is Lady Macbeth. She is construed as ambitious which is a very strange quality for a woman to have at this time. However, it is refreshing to see a powerful woman in one of Shakespeare's plays. Lady Macbeth uses her husband to fulfill her own political agenda which is unnatural and shows an inversion of gender roles (J. Dall). Shakespeare shows the negative view of female power by portraying Lady Macbeth as power-hungry and obsessed with gaining political standing. As the play goes on it is clear that Lady Macbeth's strength is faltering. This is crucial to how the people of this time were viewing Elizabeth. This play mirrors what the people felt once Lady Macbeth died which was a sense of relief so they could have a male ruler and return to the status quo.
Elizabeth faced many challenges being a female ruler and no matter what she would accomplish as a queen she would still be considered inadequate when compared to a male. The idea of a female ruler associated a vision of vulnerability with Elizabeth. By calling herself the Virgin Queen, she was able to connect her legacy with female honor as well as chastity. Similar to how Lady Macbeth's strength deteriorates as the play goes on, Elizabeth's health was deteriorating as she aged leaving the people with a relief that they would once again have a male ruler. One could argue that since Elizabeth was Protestant she was adequate in the people's eyes ("Elizabeth I"). Religion was a big deal when it comes to the monarchy, the people would be more willing to accept Elizabeth because she was Protestant.
Shakespeare uses the symbol of Lady Macbeth to reflect the dangers of having a female in a position of political power. He shows that women are irrational and that having a woman as a ruler is unnatural. Shakespeare reflects the views of the Elizabethan people at this time which shows how they thought of the image of a woman should be. Thankfully nowadays we are in a society that does not have such tight social and gender constraints.
Bibliography
Trevillian, Thomas. Trevelyon Mischellany of 1608. Digital image. Folger Shakespeare Library. N.p., n.d. Web. 1 Mar. 2016
Dall, Jane. "The Stage and the State: Shakespeare's Portrayal of Women and Sovereign Issues in Macbeth and Hamlet." The Stage and the State: Shakespeare's Portrayal of Women and Sovereign Issues in Macbeth and Hamlet. Hanover Historical Review 8, Spring 2000. Web. 01 Mar. 2016
"Elizabeth I." The Official Website of The British Monarchy. N.p., n.d. Web. 01 Mar. 2016