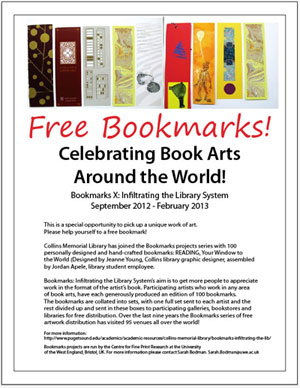 September 17, 2012
Runs September 2012 – February 2013
Thank you for supporting the Free Bookmarks event.  All our free "works of art" have been picked up by Library users!  That is so great.  This event was designed to highlight the work of book artists around the world.  Read more on our web page!
This is a special opportunity to pick up a unique work of art. Please help yourself to a free bookmark!
On September 17th the bookmarks will be available at the Learning Commons desk – a limited number and limited time to pick up an original work of art! All of the bookmarks are archived in the gallery sections of the bookmarks websites, with contact details for the contributors. The bookmarks for Part X have been made from a variety of media; letterpress, paint, old books and comics, maps, stickers, recycled papers, photography, laser cut, digital print, screen-print, hand drawn and sewn. You can view all of the bookmarks and contact the artists who made them, find out more about their work and the project via the Bookmarks VII website. Read more.