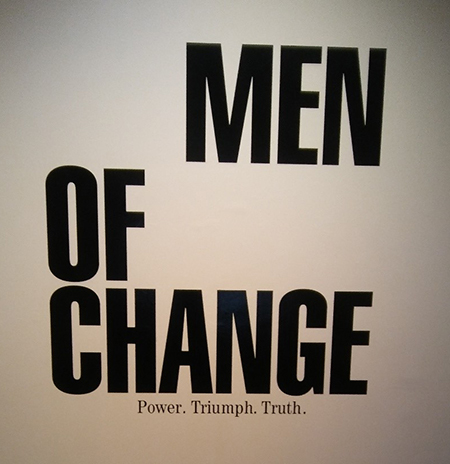 During the month of February, in celebration of Black History Month, Collins Library will be featuring posts on some of the men celebrated in the traveling exhibition "Men of Change:  Power. Triumph. Truth." currently on display at the Washington State History Museum in Tacoma. Men of Change opened December 21, 2019 and will close March 15, 2020. The Smithsonian Institution Traveling Exhibition Service developed the exhibit and maintains a website with additional information on the highlighted men.
The Men of Change are arranged by seven themes:  Storytellers, Myth-Breakers, Fathering, Community, Imagining, Catalysts, and Loving. Artists were invited to interpret each of the men in portraits that are as diverse as the African-Americans they represent.
Myth-Breakers:  Kendrick Lamar
African-American musician Kendrick Lamar's 2017 LP Damn became the first Hip-Hop album to win the prestigious Pulitzer Prize for Music, recognized by the awards organization as being "a virtuosic song collection unified by its vernacular authenticity and rhythmic dynamism that offers affecting vignettes capturing the complexity of modern African-American life." Hailing from Compton, CA, Lamar rose to mainstream prominence with his second studio album, To Pimp a Butterfly, which won the Grammy for Best Rap Album in 2016. Damn, in addition to the Pulitzer Prize, also won a Grammy Award for Best Rap Album. In total, The Recording Academy has awarded Kendrick Lamar thirteen gilded gramophones. His explosive performance at the 58th Grammy Awards became one of the cultural touchstones of 2016. Lamar was also responsible for curating the soundtrack for the 2018 Marvel film, Black Panther, directed by another of the exhibition's Myth-Breakers, Ryan Coogler.
Kendrick Lamar albums
Section.80 (2011)
Good Kid, M.A.A.D City (2012)
To Pimp a Butterfly (2015)
Damn (2017)
Black Panther Soundtrack (2018)
Portrait Artist:  Derrick Adams
Derrick Adams is a Baltimore-born, Brooklyn, New York-based artist whose critically admired work spans painting, collage, sculpture, performance, video, and sound installations. His multidisciplinary practice engages the ways in which individuals' ideals, aspirations, and personae become attached to specific objects, colors, textures, symbols, and ideologies. His work probes the influence of popular culture on the formation of self-image, and the relationship between man and monument as they coexist and embody one another. Adams is also deeply immersed in questions of how African American experiences intersect with art history, American iconography, and consumerism.
*Burton, Justin Adams. " "Cheap and Easy Radicalism"  The Legible Politics of Kendrick Lamar," Posthuman Rap. New York, NY: Oxford UP, 2017. Web. https://www.oxfordscholarship.com/view/10.1093/oso/9780190235451.001.0001/oso-9780190235451-chapter-3
*Exhibit photographs by Angela Weaver, 2020.