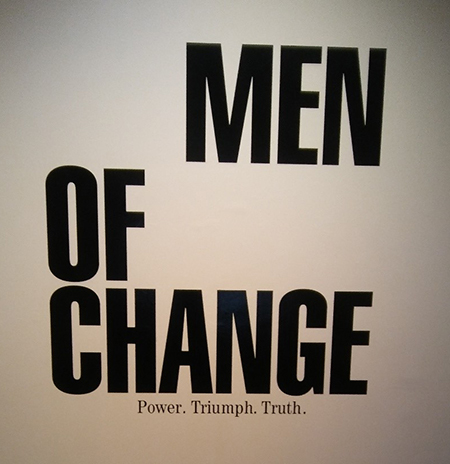 During the month of February, in celebration of Black History Month, Collins Library will be featuring posts on some of the men celebrated in the traveling exhibition "Men of Change: Power. Triumph. Truth." currently on display at the Washington State History Museum in Tacoma. Men of Change opened December 21, 2019 and will close March 15, 2020. The Smithsonian Institution Traveling Exhibition Service developed the exhibit and maintains a website with additional information on the highlighted men.
The Men of Change are arranged by seven themes: Storytellers, Myth-Breakers, Fathering, Community, Imagining, Catalysts, and Loving. Artists were invited to interpret each of the men in portraits that are as diverse as the African-Americans they represent.
COMMUNITY
Represent.
Dr. Rob Gore

The streets, blocks, schools, churches, mosques, and neighborhoods that shaped these MEN OF CHANGE helped write their life stories. Their ancestors formed communities to survive, and, centuries later, this collective strength is one of the many reasons these men found a way to thrive. By building community and brotherhood, they continue a tradition that is a hallmark of black culture. And because it is crucial to honor the impact of these neighborhoods and support networks, it's important to remember that these men maintained an unbroken connection to the places that formed them and the people who raised them. This makes their success a shared experience. For a true MAN OF CHANGE represents more than himself—he represents us all. Dr. Rob Gore was born in 1977 and grew up in Brooklyn, NY, the son of a community activist and a teacher. He attended Morehouse College, a historically Black college, and received his medical degree from University at Buffalo School of Medicine and Biomedical Sciences. He is currently an emergency physician at King's County Hospital Center in Brooklyn, New York.
After becoming a physician in his native Brooklyn, Dr. Rob Gore saw that a healing was needed—one that went beyond the practicalities of medicine and tapped into the power of community.
Believing that violence is an endemic public health problem, in 2008 Gore founded the Kings Against Violence Initiative (KAVI). The nonprofit offers alternatives to the number of at-risk youths who Gore found himself treating in the ER after they'd become victims of the violence that pervaded their neighborhoods. According figures cited by the Ted Residency program in 2016, the No. 1 cause of death among African-American men 15 to 34 is homicide. Through KAVI, Gore offers group mentoring, teacher training, therapeutic response to victims, leadership camps, conflict de-escalation training, and more. The trauma that has been inflicted upon his community has inspired Dr. Rob Gore to empower a generation of young adults to take hold of their potential and heal their world. KAVI's mission is grounded in the belief that "young people are our greatest hope for a more just and peaceful world. When we partner with our communities to invest in our youth, we understand their challenges and can work to change the course of historical inequities, tackling critical social issues such as different forms of violence. Only when ALL youth are treated with compassion and given opportunities to thrive, can we ensure that all communities are vibrant and successful."
Dr. Gore was an inaugural Ted Resident in 2016. The TED Residency program is an incubator for breakthrough ideas. It is free and open to all via a semi-annual competitive application. Those chosen as TED Residents spend four months at TED headquarters in New York City, working on their idea. Selection criteria include the strength of their idea, their character, and their ability to bring a fresh perspective and positive contribution to the diverse TED community. In 2018, he was named a CNN Hero.
Portrait Artist:  Tariku Shiferaw
Tariku Shiferaw was born in Addis Ababa, Ethiopia, raised in Los Angeles, CA, and presently lives and works in New York City. Through his ongoing body of work titled, "One of These Black Boys," Shiferaw explores mark-making in order to address the physical and metaphysical spaces of painting and societal structures. He is a current participant of Open Sessions at The Drawing Center and an artist in residence at the LES Studio Program.
Bio from artist website