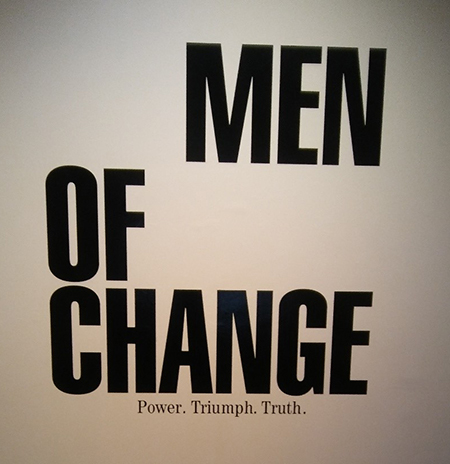 During the month of February, in celebration of Black History Month, Collins Library will be featuring posts on some of the men celebrated in the traveling exhibition "Men of Change: Power. Triumph. Truth." currently on display at the Washington State History Museum in Tacoma. Men of Change opened December 21, 2019 and will close March 15, 2020. The Smithsonian Institution Traveling Exhibition Service developed the exhibit and maintains a website with additional information on the highlighted men.
The Men of Change are arranged by seven themes: Storytellers, Myth-Breakers, Fathering, Community, Imagining, Catalysts, and Loving. Artists were invited to interpret each of the men in portraits that are as diverse as the African-Americans they represent.
Imagining: Bayard Rustin
Bayard Rustin was born on March 17, 1912 into the family of Julia (Davis) and Janifer Rustin, his maternal grandparents who were wealthy caterers in West Chester, Pennsylvania. His grandmother was a Quaker and a member of the NAACP; and their home was frequented by NAACP leaders such as W.E.B. Du Bois and James Weldon Johnson.
As a young man, he was involved in the founding of CORE, the Congress for Racial Equality, and studied and incorporated nonviolent tactics in his protest of Jim Crow laws. In 1947, Rustin and George Houser, one of the founders of CORE, organized the Journey of Reconciliation, the first of the Freedom Rides, that tested the Supreme Court ruling that racial segregation on interstate transportation was unconstitutional. As a result of his actions, Rustin was arrested in North Carolina and served twenty-two days on a chain gang. In 1953, Rustin was arrested in California for having sex with two men in a parked car. He pled guilty to a charge of sex perversion (sodomy) and served sixty days in jail. In January 2020, California State Senator Scott Wiener, chair of the California Legislative LGBT Caucus, and Assemblywoman Shirley Weber, chair of the California Legislative Black Caucus, called for Governor Gavin Newsom to issue a posthumous pardon for Rustin's arrest for having sex with men, citing Rustin's legacy as a civil rights icon. Newsom issued the pardon on February 5 while also announcing a new process for fast-tracking pardons for those convicted under historical laws that made homosexuality illegal.
As one of the founders of the Southern Christian Leadership Conference, Rustin worked with Martin Luther King Jr. to bring about the boycott of Montgomery's segregated buses in 1956 and introduced King to Gandhi's philosophy of nonviolent resistance, something that had been absent from King's arsenal prior to their partnership. Rustin's crowning achievement as an activist was organizing the People's March on Washington for Jobs and Freedom where Dr. King was forever memorialized for his "I Have a Dream" speech. However, because of his past membership in the Communist Party and his homosexuality, NAACP Chairman Roy Wilkins insisted that Rustin not receive any public credit for his work. Over time, Rustin's name faded from the storied ranks of civil rights movement icons.
Bayard Rustin died on August 24, 1987 of a perforated appendix. Six years later, on August 8, 2013, President Barack Obama posthumously awarded Rustin the Presidential Medal of Freedom, the highest award in the United States, on the 50th anniversary of the March on Washington. The citation in the press release stated:
Bayard Rustin was an unyielding activist for civil rights, dignity, and equality for all. An advisor to the Reverend Dr. Martin Luther King, Jr., he promoted nonviolent resistance, participated in one of the first Freedom Rides, organized the 1963 March on Washington for Jobs and Freedom, and fought tirelessly for marginalized communities at home and abroad. As an openly gay African American, Mr. Rustin stood at the intersection of several of the fights for equal rights.
Portrait Artist:  Sissòn
Sissòn  (b. 1986) is a non-binary, self-taught American artist. Their work reveals and questions the experiences and social constructs of race, identity, and power. Born in Los Angeles and raised in Glendale, Arizona, Sissòn began their creative curriculum at age seven under the tutelage of their mother, Kimberlin. When she passed away in 2006, Sissòn abandoned their practice for almost a decade. They returned in 2015, creating work that would form the basis of their first solo show, Ivory, Gold, Slaves. Sissòn continues to eschew the gallery system, showing independently in New York and Los Angeles where they live and work.
Artist bio and photograph from Smithsonian site.
Exhibit photographs by Angela Weaver, 2020.