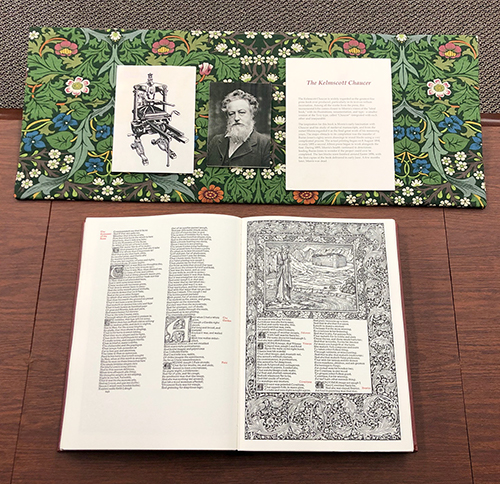 At the end of the month, Collins Library will be joining other libraries and museums around the world to celebrate William Morris's Kelmscott Press and the 125th anniversary of the Kelmscott edition of The Works of Geoffrey Chaucer. Four years in the making, with illustrations by the Pre-Raphaelite artist Edward Burne-Jones and designed by Morris in every detail, the Kelmscott Chaucer, as it is commonly known, was published in 1891 and is universally considered one of the most beautiful books ever printed.
On June 25th between 11:00 and 1:00 pm visit the Collins Library Reading Room and take a moment to view some of our unique materials associated with William Morris and the Kelmscott Press as well as visit our new Book Arts/Printing Press Studio in the lower level of the Library!
Collins Librarian Jane Carlin will be giving 2 short presentations (10 minutes) on Morris and his books at 11:00 and 11:45.  To comply with social distancing, if you would like to join one of the presentations, please email Jane directly at: jcarlin@pugetsound.edu.