January – March 20, 2017
Collins Library exhibit room
99 Elephants A Day
Check out the new front "gallery/study" space in Collins Library. Currently this space is featuring an exhibit titled 99 Elephants a Day. This exhibit features the work of Pennsylvania artist Suzanne Fellows. She made 99 elephants a day for 365 days to equal the number slain by ivory poachers in 2013: 36,000. Each one is a one of a kind mixed media print on paper with gouache and ink – 2 ½" x 3 ½". She painted the backgrounds with a variety of water based paints and inks and printed the elephants with gouache. Some are also 'embellished' with markers before being stamped on the back and numbered. Collins has about 300 of the elephants on display. The exhibit also features the photographs and research of Professor Rachel DeMotts whose work focuses on aspects of conservation and wildlife. In addition, the exhibit showcases the pe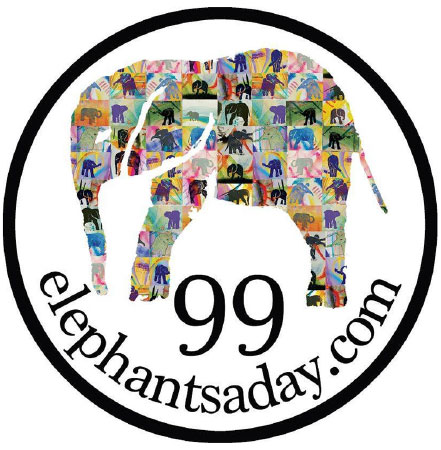 rsonal collection of elephant figurines of Ken McGill as well as one of Collins artists' books by local artist Mari Gower which address the plight of the elephant.
This room has been reconfigured to include great lounge seating and is a wonderful space to study or just hang out!
On March 22nd, a presentation titled Chasing Elephants: Conservationists, Politician, Farmers and the Problem of Ivory by Professor Rachel DeMotts and Parakh Hoon, Professor of Political Science will be offered in conjunction with this exhibit.