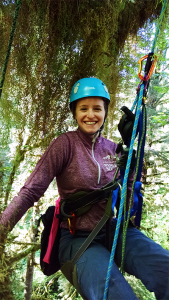 I and the other student researchers in the Woods Lab have just completed our first full week of field work in the Hoh Rainforest, on the Olympic Peninsula. Today I spent four hours suspended in a tree, collecting moss samples, surveying bryophyte species, and hanging lines in the canopy for other data collection efforts. Each of our days has been filled with similar activities, which continue to excite our minds and challenge our ingenuity.
The sheer beauty of the environment we get to work in continues to amaze me. The human eye can perceive the most shades of green, more shades than those of any other color, and I feel as though I enjoyed them all while I was working in the canopy today. And amidst the focus of the work and the adrenaline of the climbing, I was feeling another emotion—belonging. I know that this work is what I want to do for the rest of my life. If not in the canopy of a tree, then maybe under the ocean, or on a small island somewhere just as green.
The process to get here was not a short one. I took a research class this past spring semester to aid in writing the extensive research proposal, as well as other grant applications, to be able to earn this opportunity. But I was assisted the entire way by professors who genuinely want me to succeed, and most of all by my research advisor Carrie Woods. And now we're out in the field, Carrie and I, and my three lab mates Eric, Kimmy, and Micaela, and I just think—this is why you come to a school like the University of Puget Sound.
We, as four undergraduate students, have been given the opportunity to design our own research projects and pursue them in such an incredible environment as the Hoh Rainforest. We are finally out here doing what we spent so long proposing to do, and it's a million times better than we could have hoped for. And we get to work with and learn from a fantastic professor and an expert in the field of epiphyte community ecology. That's quite the student-to-professor ratio.
If you don't know what you want to do yet, just try it all. Anything I can learn in an environment like this, even if it doesn't end up being my life's passion, will continue to make me a better student, and my goal, a better scientist. I have already learned more in this process than I ever thought possible (and I've got some great moss facts if you're interested). No matter what your interests are, even if they're a mile away from bryophyte ecology, this school can give you the opportunities to explore them. In my opinion, this is why you come here.
McKinley Nevins summer science research at University of Puget Sound is supported by the M.J. Murdock Charitable Trust's College Science Research Program.