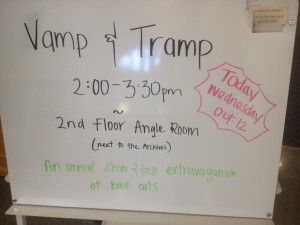 On Wednesday, October 12 there was an event that garnered the rare O designation for "other" category in the Arts and Weekly Lectures email sent out to students (ie something that wasn't either a E = exhibit, F for film, L for lecture, M for music, T for theater, or W for workshop). The event was a small gathering that took place in the McCormick Room in the Collins Memorial Library. Dubbed the Vamp and Tramp Show, the event was full of various rare books that were available for the public to read, assuming your hands were clean.
Unclear why it's called the Vamp and Tramp Show? So was I! But upon internet research I found that it was because the event was put on by Bill and Vicky Stewart from Vamp and Tramp Booksellers (more info can be found here: http://www.vampandtramp.com/html/home.html) who travel around displaying rare books for the general public to see.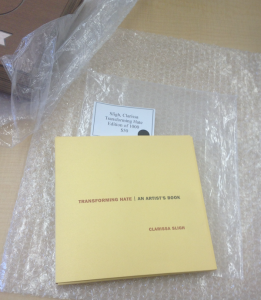 One of the books that stuck out to me was Transforming Hate by Clarissa Sligh (I really recommend checking out this website with info on the project: http://clarissasligh.com/themes/memory-history/transforming-hate-artists-book/ ) which was a fascinating grouping of different forms of art ranging from fantastic origami to other narratives that ranged from Emmett Till to the recent shooting at  Charleston's Emanuel AME Church. It was powerful to see the book that crossed so many different genres that served to convey important narratives in such a beautifully made book.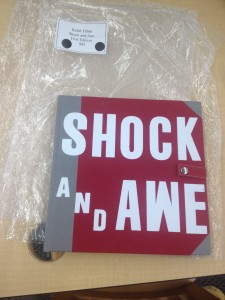 Another book that stood out was Shock and Awe by Ethan Rafal (http://www.ethanrafal.com/shock-and-awe/) which was centered around photographs that captured the impacts of war. Creating an interesting parallel between the devastation abroad that was mirrored at home, there were many portions that were focused on letters of personal narratives. These unique snapshots of peoples' lives were effective in making a point of showing the fleeting glimpse we get of the human impact of war today.
All in all, the event was a very interesting and unique experience that was a nice study break during midterms week for those looking for it. Be sure to look out for the next event held by the library!