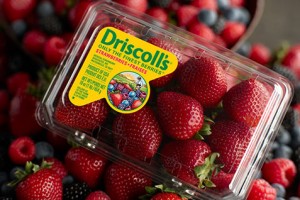 One thing that we emphasize here at Puget Sound in our course work is Social justice. This is particularly true in the department where I focus, Sociology and Anthropolgy, where discussions of privilege and power relationships are the building blocks of our discipline. But reading about injustice in a book only goes so far, and part of a liberal arts education is acting on what is learned in the classroom to support activism in the wider world. Universities are bubbles, and staying inside them is safe but also silly-and a disservice to those beyond the bubble who need support.
This weekend, Puget Sound students had the opportunity to step outside their own lives and support others by collaborating with Familias Unidas por la Justicia, a farmworkers rights union formed by farmworkers who labor for Sakuma Bros. farms, a corporation that supplies berries for big name brands like Driscolls and Haagen Dazs. Famillas Unidas is a coalition of farmworkers striking for better wages, humane hours, and saner working conditions and encouraging others to boycott Driscolls to force change. Advocates for Detainees' Voices had the opportunity to bring representatives from Familias Unidas to campus for a panel on Thursday evening, and then we organized a protest on Saturday at the Metropolitcan market to protest the sale of Driscolls berries there despite continued requests from community members to pull the berries from their shelves.
The panel was a truly amazing experience, with Puget Sound students getting to speak with inspiring labor leaders and hear about why they are striking, and what they hope to achieve. As the president of Familias Unidas said, "We aren't trying to get rich. We just want to live like you all, to live like people." The bravery and intelligence of the Familias Unidas representatives–and the clarity of their mission–was impactful for me and I am sure for others as well.
Having the chance to take the message that Familias Unidas shared with us in the panel to the streets Saturday morning–to feel that we were doing somehting concrete, small though it was, to fight Driscolls–was affecting for all of us. There is such dynamic energy when a large group of people comes together, especially when they are doing so for a cause they believe in. None of us felt the cold Saturday, and none of us felt our throats becoming raw. Because protest is powerful, and protest is important. We were yelled at by a Met employee and had our fliers handed back to us by a few disgruntled customers, but most people stood with us, cheering for our message and beeping from our cars. So maybe, when they parked those cars and went into the store, they thought about the men, women and children who grow their food, and maybe they bought the other brand of blueberries.
Our protest didn';t change anything major. It didn't move mountains or even hills. But I think it shifted a few boulders, and maybe, as Familias Unidas continues to fight for their rights, we'll see a landslide soon.