Hello first semester of senior year! It's good to be back. This summer was particularly eventful; I spent the first half of it living that Lizzie McGuire life abroad in Italy! Last semester, I was lucky enough to have made it into a brand new connections class called Rome: Sketchbooks and Space. This class was based in the study and appreciation of ancient Roman art and architecture, focusing heavily on sacred spaces and the utilization of space as a whole. Throughout the semester each student also worked on a sketchbook with weekly entries. As an art major, I thoroughly enjoyed this aspect of the class, though it wasn't all art majors in the class. The classroom part of the course was very interesting… but the best part was going to Italy for the first three weeks of summer.
You heard me, Italy! Our entire class lived in Rome– along with our fabulous professor and official guardian angel, Elise Richman– and worked in the Rome Center studio spaced owned by the University of Washington. The Rome Center was right in the middle of the beautiful Campo di Fiori, a bustling marketplace during the day and vibrant city life scene at night. I used to sit in this one particular windowsill and look out onto the square… and people used to take pictures of me in my little spot! I guess it is pretty rare to see a redhead in Rome. Here's the view I had from that windowsill one night as the sun was setting. Stunning.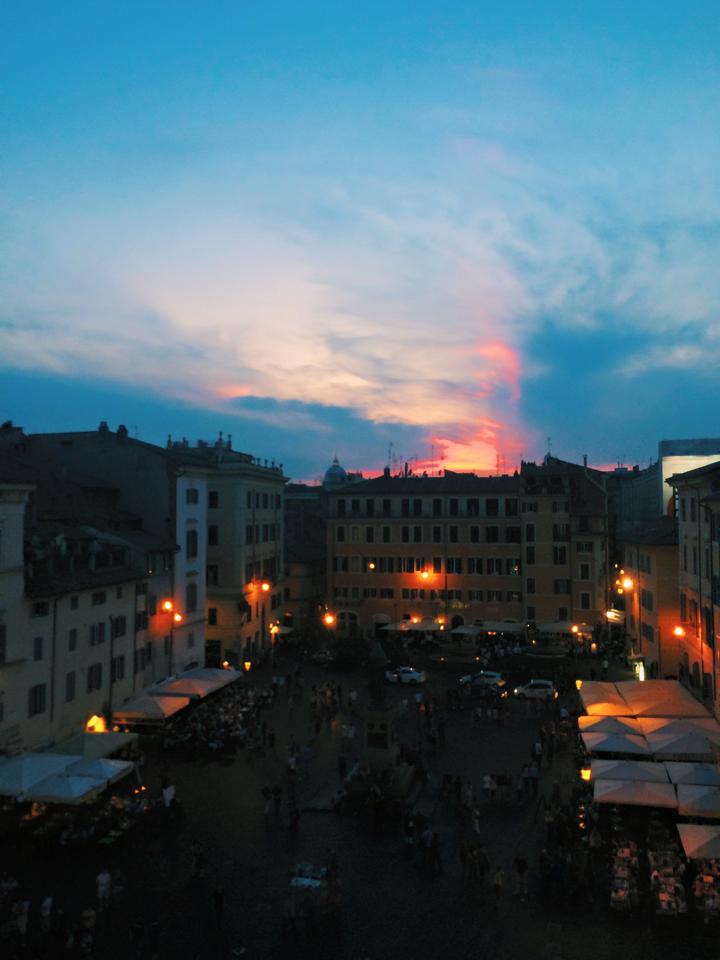 Rome was absolutely incredible. Living in the middle of the city was an immersive experience unlike any other, and I even learned to speak a little Italian! Only really important phrases though, like how to order gelato. VERY important. Obviously. (Because let me tell you, I ordered a LOT of gelato.)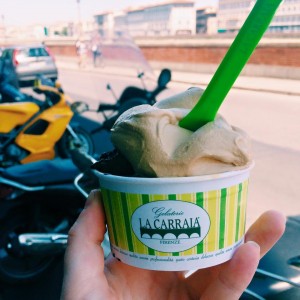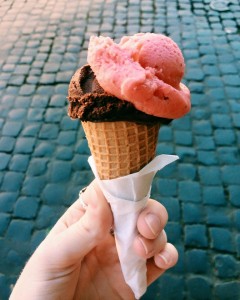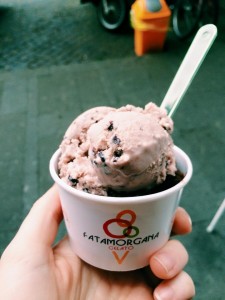 Aside from the hundreds of scoops of gelato I experienced, I also experienced an incredible amount of ancient art and architecture on our group trips to various museums and landmarks. Rome was surprising in that a lot of hugely historic landmarks are just smack in the center of town… the Pantheon, for example, is right in the middle of a residential area. The day we visited was one of our two free days in the three week trip and happened to also be the celebration of a religious holiday–the square was absolutely PACKED to watch the dropping of rose pedals from the oculus! I couldn't get close enough to get a good photo, but I did get to see them sweep up the petals inside afterwards!
I took SO many pictures in every museum we went in, but I've tried very hard to narrow it down for this post! Here's some of my favorites:
And of course, a gratuitous picture of me actually crying in front of Bernini's Rape of Persephone — what else are you expected to do when confronted with work by your favorite sculptor/artist that you've studied for years and never thought you'd ever actually get to see in person? (This would not be the last time I cried in front of art while abroad, I promise you. Many happy tears were shed.)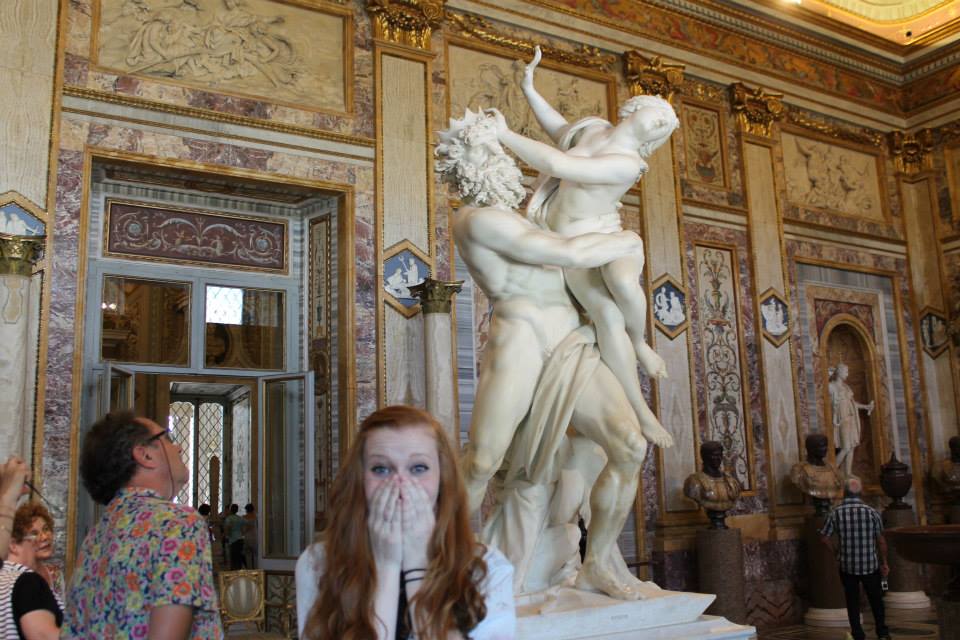 The class didn't just stick to Rome! We also went to Tivoli, Naples, Florence, Venice, and Pompeii. It was truly wonderful getting to experience so many culturally and historically cities.
Florence was probably my favorite place we visited (and it had the best gelato!!), but Venice was particularly notable because I got to meet up with my now housemate and bff Maia Raeder '16! She'd been studying abroad in Granada, Spain the semester previous, so it was but a hop, skip, and a jump to Italy to meet up with us!
As we neared the end of our trip, our final assignment was upon us. During our last week in Rome, our class had unlimited access to the studio space to work on a sustained art project dealing with the themes of architecture and space. Here's all the brilliant work everyone presented!
Overall, the experience was incredible. Being able to witness in person the art and architecture I've studied for so many of my years as a student was something I never thought I'd be able to do. Needless to say, I am very blessed to be going to a university where a trip like this is possible and affordable. After my trip to Italy, I flitted around Europe for ten more days with my friends Marissa and Ashley–but that's another post altogether! One day, I'll make it back to Italy, and this time with more language skills besides, "I'd like chocolate gelato please!"
Ciao! 😉