In which Daniel professes some delayed gratitude.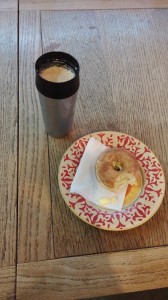 To my dear reader,
In truth, I have never found Thanksgiving to be a time to profess gratitude. Do not misunderstand me; I am very grateful that I have the chance to eat an enormous and delicious meal with family and friends. That being said, I don't see the holiday as a celebration of gratitude, so much a celebration of family and food – both of which are perfectly wonderful. I instead find myself being thankful at the most unexpected and often inappropriate times, such as realizing how lucky I am to have a loving pet dog and bursting into tears while watching "The Hunger Games".
Studies demonstrate that people who begin to consistently express gratitude begin to become consistently happier people, regardless of circumstance.  It seemed logical to me, then, that my next post should be one in which I express gratitude for the unexpected and seemingly trivial things in my life. Here are just a few:
1) The delicious combination of a buttered, toasted cinnamon sugar bagel and a chai latte at Bertolino's Coffee on Union Street in Tacoma, WA.
2) The woolen socks currently on my feet – for, in the words of Albus Dumbledore, "One can never have enough socks".
3) The calming nature of the scent of peach tea.
4) The fact that my room is currently quite clean.
5) The way that the texture of flannel feels like a warm blanket and thus makes me feel as if I am still in bed.
6) The day when, after asking my fraternity brothers for camping gear for an upcoming hike for which I was unprepared, I came back to my room to find a small mountain of their camping gear waiting for me.
7) The short play "Perfect", from the collection of short plays "365 Plays/365 Days" by Suzi Lori-Parks.
8) The dog that just let me cuddle it as I took a break from writing this blog post in Bertolino's Coffee.
9) Indoor plumbing.
10) An afternoon I had with a good friend at the Tacoma teashop Ubiquitous Journey, in which we played word association games.
11) The fact that, while we were at Ubiquitous Journey, one of the employees gave me a free gift card because of a previous blog post I had written about the teashop.
12) Waffle Day in the School of Music – a glorious event in the music building of the University of Puget Sound in which the School of Music's two secretaries/gatekeepers/guardians Carol and Leah make waffles for the students on the last day of classes.
13) The squishy brown couch in Diversions Café, where I have publicly napped and shamelessly wept on more than one occasion.
When I think of gratitude these days, however, what comes to mind foremost is a recent experience I had while in the Cellar, the university's pizza shop.  I and a few friends had been spending time in an on-campus house, and decided to take a break from our movie by stopping by the Cellar.  Not wanting to spend too much money, I left my wallet in the house and took only the four dollars inside.
Arriving at the Cellar, I realized that what I really wanted as my not-so-guilty snack was a chocolate milk and a pack of Hostess Donuts.  With only four dollars and the price of food, I suspected that I'd only have enough money to cover one.  "Ah well," I thought, "I'll check with at the register which one is under four dollars".  But I secretly bemoaned the preemptive loss of one of my snacks.
Upon arriving at the register, I placed down my two items and the cashier rung them up.  "I suspect that I won't be buying one of these," I told him, "Since I only have four dollars".  But much to my surprise, when the cashier scanned the barcodes of the two items, the number that appeared on the little screen was three dollars and ninety-six cents.  "Yes!" I cried, whipping out my four dollars and slapping down at the table.  Ah, the beauty of little things!  The joy of the small triumphs of life!
"Don't you want your change?" the cashier asked as I seized my items and began to walk away.  "Not necessary!" I called back with relish.  "Keep the four cents".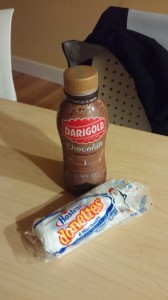 With all due respect,
Daniel Wolfert