It's December, and I can't believe it! I haven't written a post since October, and not because I've had nothing to talk about, but because I've been so busy exploring I've been forgetting to write it all down. After my last post of October, our program went to Madrid for 5 days to visit el Prado, la Reina Sofia, el Palacio Realel Escorial, Toledo, and Segovia. Several students in my program, myself included took the opportunity to see a Real Madrid fútbol game, visit ham fest, find some delicious tapas restaurants, and wander around the city's parks.
November has been filled with family barbecues, hikes around Granada, a visit to Alpujarras and Jerez, midterms, salsa dancing, a flamenco show, lots of tapas, shopping at the gypsy market, finally taking the DELE exam, and planning out my post-program travels.However, rather than review the details of ALL of the amazing trips and memorable events from the last month, I'd like to focus on a few of the more recent and unique experiences.
Alpujarras:
In mid-November, I traveled to Alpujarras in the mountains north of Granada for a day with a student travel program (Low Cost Trips Granada). We bussed up to Capileira where we got out and were able to see the highest point in the Iberian peninsula. This was one of the towns that was built by Muslims in hiding when they were exiled from Spain in the late 1500s and early 1600s. The cities used to be built with brown houses to blend into the mountains, but now they are all completely white. From there we hiked over to Bubión where we got to see a tailor at work. We then got back on the bus and went to Campaneira to visit a chocolate factory, Abuela Ili, where we were able to try a ton of the 60+ chocolates they had in their factory. I was immediately turned into the child I am and tried every single sample they put out at least two times and bought 3 bars of chocolate and 2, large, pieces of chocolate bark. 🙂
We then went to Trevélez, the highest city in Europe, which is famous for its Serrano ham. We went into a ham factory where we were able to see the curing process and then had a tasting of a variety of hams paired with a sweet wine. I, of course, was compelled to buy ham as well. Then, as we were waiting to hop back on the bus and head back down to Granada, it began to snow! I have never been so thrilled to see fluffy white flakes falling from the sky as in that moment! There is something about being so close to the mountains in Granada, much like in Tacoma, that makes me feel like it should snow. Watching the snow fall down as I stood in the highest city in Europe made me long to go back to Steamboat to ski the mountain on opening day, but it also made me feel like Spain was more like home than I had given it credit for: just like Colorado, it has snow, chocolate, and wonderful small towns that I love so much!
A Week in Granada
The week after Alpujarra's was the week of the DELE (the standard Spanish language placement exam), which meant no traveling the following weekend. So we spent the week doing our final practice exams and interviews before finally heading into the 4 hour test on Friday morning. And I'm happy to say that, despite being dreadfully long, the test was not too bad. Our program had done a wonderful job of preparing us for it, and there weren't any surprises hidden in the test. However, upon completion I looked forward to a very relaxing and rewarding weekend. Immediately after I went with a few friends for Churros and Chocolate at one of the nearby cafes to celebrate. We went out for tapas near the Plaza de Toros that night and celebrated a 21st birthday the following day with a walk around the Albaycin and a discoteca to round out the evening.
That Sunday we went to our host mom's niece's house in the pueblo for a barbecue. We had chorizo, pinxtos, carne, peppers, and miga (kind of like stuffing), accompanied by sangria. Then my host cousin (who happens to work in a bakery) brought out dessert, bonbons, apple tart, and a plate filled with a variety of pastries. I had a slice of apple tart (since it was as close to thanksgiving pie as I was going to get) and a pionono, which is a classic pastry from Granada that tastes like a cinnamon roll on steroids filled with cream sauce. As to be expected I had no appetite left for dinner that night and had a hard time even eating breakfast the following day.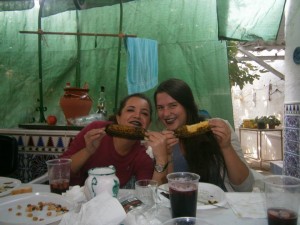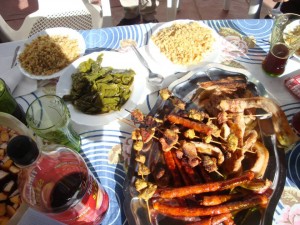 Jerez 
Finally, this past weekend, I went to Jerez with two other girls from UPS to explore the city and taste the world famous sherries. We took the train and got there on Friday night and went to our apartment (we stayed in an apartment that we booked through airbnb). After checking out a map to figure out where we were in the city, we wandered down to a wine bar about 10 minutes away. The streets in this  part of the city were virtually empty with a few pedestrians and the occasional car. They were little streets that wound this way and that around the buildings. Eventually we wound up in a little plaza filled with people and headed into the sherry bar. We had a few glasses and a few tapas and hovered by a little table along the wall of the crowded bar before deciding to try another place. We walked down the street a little farther, came to another plaza, and found a little restaurant tucked away where we sat and ordered more tapas and a bottle of Tempranillo. We soon discovered that there was another plaza in practically every block of Jerez.We also went sherry tasting at the famous Tio Pepe bodega, the largest in all of Jerez, and rode around the bodega on a golf cart in our own personal tour with one other man who was from Japan.
To get a taste of home while we were away we also decided to cook ourselves some of the breakfast food we'd been missing… pancakes, hash browns, fried eggs, and of course latkes for Hanukkah 🙂 Having the ability to pick my own eating schedule and what my meals consist of is one of the luxuries I miss most about home, so this trip came at the perfect time to remind me that home is not that far away and I can always do simple things to ease the homesickness that is so common with traveling.
December…
I am very sad to report that our program will be over in just 17 days and then I will leave Granada, my incredible host family, and the amazing friends I have met this semester. I know that when I got here the first few weeks dragged on and I thought I would never be able to understand the language or feel comfortable ordering in restaurants, talking with my host family, or listening to tours in Spanish. However, now that we've come into the final month of our program I am amazed at how fast it has all gone by and at how distant that first month seems. Although I am looking forward to the next phase of my travels, including Prague, Italy, Thailand, Laos, and Vietnam, I am cherishing every moment I have left in Granada and hoping that these last few weeks will drag on the way I thought they might at the beginning of the program.