Wednesday mornings have the best scenery of any day of the week.  When I look out from the Center, I see a stretch of sparkling turquoise water, hopefully flat so it doesn't limit our water activities for the day, the limestone-and-scraggly-vegetation hill of Long Cay, maybe a flamingo flying around or a local fishing boat getting some air off of wave crests on its way out for the day's work – and a ship.  Well, possibly multiple ships.  But what makes this one particular ship exciting is that it carries all of our food for the next two weeks.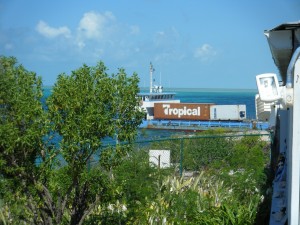 The availability of food isn't something that you really think about in the Unites States.  I know there comes a point in every semester when all you want is a home-cooked meal, but still, the SUB exists so at least the food is there and you have the opportunity to eat it.  This isn't to say that we go hungry here on South Caicos at the CMRS – just that fresh food is less readily available than some places in the world (although certainly more readily available than others).  Depending on a floating piece of metal with some boxes on it showing up every so often in your backyard is rather different than popping over to Safeway because you need your own personal jar of peanut butter.
In 2008, Hurricane Ike slammed into the Turks and Caicos Islands, severely damaging or destroying a third of the buildings on South Caicos and temporarily preventing the food ship delivery.  Now, five years later, a lot of the buildings still haven't been fixed – at East Bay, a favorite beach bonfire site near the Center, the remnants of a hotel development are scattered around the sand and pine trees.  On any given visit, if it weren't for the number of pine needles on top of the piles of lumber and insulating materials, the hurricane could have happened last week and we could be out surveying the damage for the first time on empty stomachs.
Basically, the ability to walk to the Met and take as many free cheese samples as your conscience will allow (not that I'm speaking from experience or anything) is a luxury.  Which sounds a bit cliché.  You don't realize how different things are in other places until they are suddenly made relevant to you – like eating rice and cabbage for the fifth time in as many days while watching rusty shipping containers come trundling towards you over the algal plains and patch reefs of the Caicos Bank.