Want to get the word out about your concert, presentation, or workshop? The Office of Communications can help by promoting it through channels like the university event calendar, Puget Sound social media pages, the reader board on Union Ave., and campus e-newsletter Open Line.
To share your event with the Office of Communications, visit pugetsound.edu/events and select 'Submit an Event' on the right side of the page to open a submission form.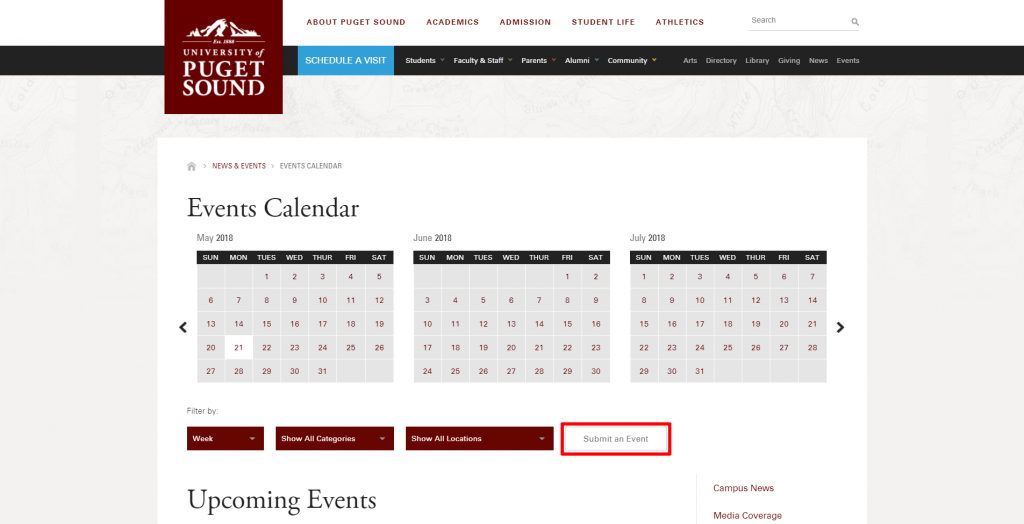 When using the form, here are a few tips to keep in mind:
Include a detailed description of your event, including a start and end time.
An external website, such as a Facebook event page, is good to include if you have it. This can be entered in the "website" field.
Adding an image is a great way to get your event noticed. Images without text are preferred; small text might not be readable. If you have a photo of the speaker/artist, that's perfect.
At the end of the form, you can select multiple tags related to your event. For example, Night at the Museum could be tagged "Slater Museum," "Parent/Family," "Public," and "Science." This would help community members find the event when searching by any of those categories.
And that's it! Once you hit Submit, we'll take it from there. If you have changes to an event, or questions about promotion, contact events@pugetsound.edu.
Note: The Union Ave. reader board is reserved for events that are open to the public. If you'd like your event to be visible to people passing by Union Ave., be sure to tag it as "Public."
Looking for other types of promotion?
The Office of Communications also designs printed materials like posters, fliers, mailers, and invitations. If you have a budget for printing, and want to get started on promotion several weeks before your event, let us know at pugetsound.edu/communicationsrequest.
We look forward to hearing from you!
___________________________________________________________________

Michaela Alden '13
Production Specialist
253.879.3582
Michaela manages the university event calendar and is the central contact for campus lecture series, performances, guest artists, and more.