Mary Farrell, Professor of Art at Gonzaga University visited the University of Puget Sound in September to 2018, where she lectured, worked with students and developed lithographs.
A. Mary Farrell's Direct Plate Intaglio Workshop

Elayna Caron:
Arts 281 was lucky enough to have professor and artist Mary Farrell come and do a workshop with our class. Mary started the workshop by showing us some of her prints and discussing her process. It was helpful to see sketches and primary ideas on how her work came to be. After showing some work we came together as a class and Mary showed us drypoint techniques. Drypoint is when one works directly onto a copper plate with tools, with no ground. The technique is very direct and intense. There were a few tools that I was drawn to initially. The first tool was the mezzotint rocker. The rocker creates plate tone in specific areas; it is very exhausting because you have to rock back and forth in all directions on the plate two times, yet you get a beautiful dark area in the area that was rocked. Another tool that Mary demonstrated that I was very drawn is the roulette. The roulette has a head that spins and creates a charcoal-like mark on the plate. As a person who works primarily in paint and charcoal, this technique was very liberating. As a class, we created a test plate where we all got to make a mark on the plate and Mary showed us how to print it. Overall it was a very exciting experience to learn from Mary and to be able to examine her work and her process.
B. Mary Farrell's Art/Sci Lecture
In Farrell's public lecture, she discussed SOIL MADE VISIBLE, a collaborative project undertaken with her sister Pat Farrell, Associate Professor of Geography at the University of Minnesota Duluth.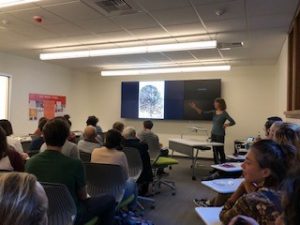 Mary Farrell's description of Soil Made Visible
Soil, though silent, is vigorous, vivacious and alive as it nurtures seeds to germination, incubates microbes, changes its parent, and swims and swarms with life. The goal of this art-science collaboration is to make soil visible. We are a pair of blood sisters, a soil geographer and an artist. As we talked about the living, breathing, corporeal nature of soil, we became intrigued with the idea of burying a canvas to, quite simply, let soil make art. To us, soil seemed the perfect metaphor for exploring the underside of our sibling relationships. Drawn to the intimate association between soil and roots, and the important role root structures have played in Mary's artwork, we chose to plant a root image below the surface.
We began our inquiry by carving and printing an image of a root on seven panels of wood, then burying the blocks of wood in the backyard soils of our seven siblings, who are spread across the United States. We imagined the root as the familial umbilical cord, connecting the siblings to the Kentucky earth from which we seven originated. We liked the idea of the continuous root system becoming disjointed as separate pieces from the same family lineage spread across the continent, earthed in various grounds. We left the wood panels in the ground for two years, then exhumed the panels and printed them again.
Students responses to Farrell's lecture and related activities:
Lauren Zinkan:
Throughout Mary's lecture, the audience is exposed to the different effects soil from around the nation has on a piece of pine. We see that the various locations the pine is buried has a different effect on the plank buried. Mary draws a parallel between this and the lives of her siblings. While they may all be similar in root, where they choose to live alters the course of their lives. This resonates with me because although we all start in one place, the universe affects us all differently and by the time we are "pulled out of the earth" we are completely different people who sometimes don't even resemble who we once were. Furthermore, the process of creating this piece is a game of waiting. Other than the act of carving the initial root, burying, and printing, Mary did not play a role in the outcome of this project, she left that for the soil to do. Similarly, besides reacting to what is around us, we don't play a huge role in the outcome of ourselves, but simply wait and see what we become. Although this piece is centered around family, I think we can look at it with a broader perspective and acknowledge that we are all just a plank seeing what effect the world will have on us.
Emery Bradlina:
One of the most salient relationships that Mary Farrell's work captures so well is that between earth and human. During the time that we spent with her in class as well as hearing her present on her collaborative project, it was made clear that this relationship provides her a tremendous amount of inspiration. In her work that she showed us in the classroom, she explored this relationship by combining a topographic pattern and skin patterns that emulated one another. I saw her lecture as the most striking exploration of this relationship as the multidisciplinary approach allowed for the direct contact of man-made and natural. She stated that through the process, she found that what started as a study of soil became a study of the relationship between the "domestic and the natural."
Her lecture opened with a thought-provoking anecdote about the number of microbes in a handful of dirt exceeding the number of humans on the planet. From the beginning, she emphasized the power that the soil held in the eventual outcomes of the project. Although there was control to begin with in the crafting of the blocks, in the end, what came of the prints was unplanned and dictated by the earth it was immersed in. I thought there was an interesting conceptual parallel to this loss of control and printmaking in general. When printing, even though you can partially anticipate how the final works will come out by looking at the matrix, the printing process will yield slightly unplanned variations each time. Farrell's work in this project embraces the power of the unplanned in order to produce a beautiful, rudimentary representation of time and decay.
Emma Lundquist:
Seeing Mary Farrell's fourteen-foot long print was much more influential than I was anticipating. After watching her work and observing her other smaller prints, I thought I had a fairly good grasp on the overall themes and techniques she uses in her art. I was not prepared for the enormous project, both in length and time, to be quite so effective. Her use of nature and change to reconcile her own emotions regarding her family was so beautiful and astonishing to me. Farrell spoke about her daughter leaving for college and coming to terms with that departure with the series of birds' nests in her prints; the thematic presence of these in her current work to me means continuously understanding and healing as birds must remake their homes. Family is obviously a core concept in her art and I was grateful to hear about her relationships with her siblings, especially her sister and collaborator Pat. It reminded me of my mother and her seven siblings all spread out from Indiana to Idaho.
Coming from a close family of artists, I constantly struggle with wanting to emulate them in my art and to have my own growth separate from them. To hear Farrell include them in her prints in their particular roles made me want to collaborate with them as I hadn't before. I tend to be a bit territorial about my art, and it was really encouraging to see how I could still do my own thing but share it with my family. Sitting there listening to her talk about her siblings with fond exasperation made me miss my family so much my chest hurt; it made me want to span the gaps between all of us in the same tangible way. Farrell's significance of carving the soft wood and burying it for two years is matched by the labor of reclaiming and reprinting the pieces to find they all still connect.
C. Mary Farrell's production of lithographs
Professor of Printmaking, Janet Marcavage:
In collaboration with Professor of Printmaking, Janet Marcavage, and Intermediate Printmaking students, Mary Farrell produced two stone lithographs. Mary primarily works with etching and relief processes, yet was interested in the opportunity to create lithographs at Puget Sound. Stone lithography is a process that is over 200 years old, whereby a drawing is made on limestone with a greasy material. It is then etched with gum arabic and acid, which makes certain areas of the stone attractive to grease and other areas attractive to water, allowing for an image to be printed with many tones and autographic qualities.
Nests and root structures are a common subject in Mary Farrell's work. During her visit, Mary explained that she began to work with nests as symbolic of her relationship with her daughter and the sense of home. During her visit here at Puget Sound, Mary borrowed three nests from the Slater Museum of Natural History. After sketching from these nests, Mary ultimately decided to focus on one small nest that held great elements of line and gesture, qualities that Mary seeks and responds to beautifully in her work.
Lab assistants Izzy Lidsky and Harper Shapiro prepared two litho stones in advance, graining them down to a smooth, even, grease-free surface. After sketching on paper, Mary drew on the stones, then they were etched and printed during the latter part of Mary's stay. Stone lithography is a rigorous process with many steps. Students Izzy Lidsky, David Smith, Hunter Loftus, and Harper Shapiro collaborated with Mary Farrell and Janet Marcavage in etching and printing the stones. The lovely form, marks, and gesture that Mary drew on the stone came forth in the final prints. It was a satisfying collaboration.