This past week, I finished my second print making project: lithography! This was the first time I've ever worked with litho, and let me tell you, it was QUITE a process. Here's the first sketch of my print idea!
The first step was graining the stone, in other words, literally removing a layer of limestone by hand. To do this, we used several different grains of sand and a lot of physical labor. Litho stones are reused over and over again, and some are super old. As a matter of fact, here at Puget Sound we have litho stones that were once used in printing the Seattle Times! (Before printing presses… that's old!) We grain the stones to remove the image from the artist prior.
Next step: drawing my image on the stone. This is done either with special types of "grease crayons", which attract the oil in the ink used for printing, or with autographic ink. I chose to use autographic ink because instead of providing shading variations like with crayon, I wanted a simply black and white image.
Here's what it looked like all fully inked on my stone!
Finally, PRINTING! This part of the process went much faster with two people, so I had a friend of mine help out and I returned the favor when it was her turn to print.
I (of course) ended up covered in ink again. My hands looked like someone possessed by the power of black magic.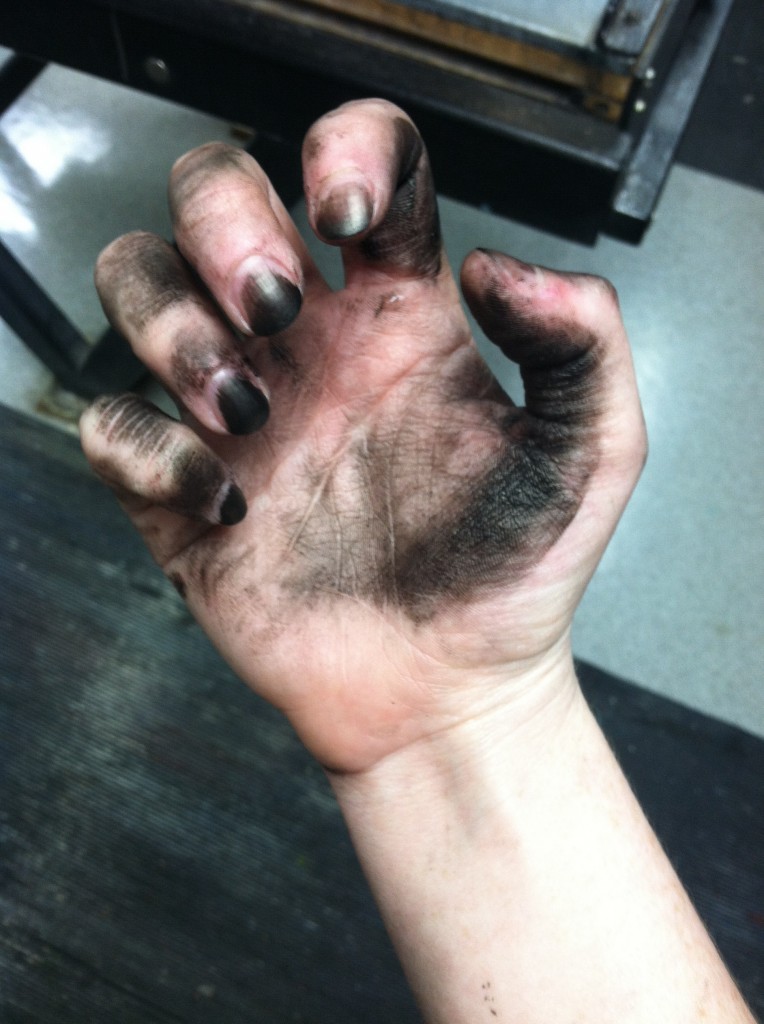 After MANY hours of artistic labor, I had a full 11 print edition! Here's what my best print ended up looking like.
I'm quite pleased with the outcome, considering the amount of time and effort put into something I'd never done! I'm looking forward to maybe experimenting with color lithography sometime, but for now… I'll stick with screen printing!!