Man, what a year. This has probably been the most eventful and exciting year of my life. I feel that I've grown and accomplished so much in 2014, and what kind of person would I be if I didn't boast about my experiences a little bit?
Here are some of my highlights of 2014, in mostly chronological order:
1) The snow day on campus, almost a year ago now. I had such a fun evening playing in it, and my dear friends in the tea house built a snow Iroh from Avatar the Last Airbender.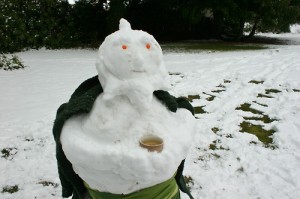 2) Going to Emerald City ComicCon and meeting the creative geniuses who wrote my thesis primaries: E.K. Weaver (the artist of The Less Than Epic Adventures of TJ and Amal), and Jeffrey Cranor, Joseph Fink, and Cecil Baldwin, the creators of the podcast Welcome to Night Vale. 
3) On the subject of the thesis… I wrote a freaking thesis. It was a pretty incredible and exhausting experience, and I was very proud of the outcome.
4) My best friend Lexie's visit to UPS in April. We blew off class and went to the Seattle Aquarium and the EMP… and ate too many doughnuts.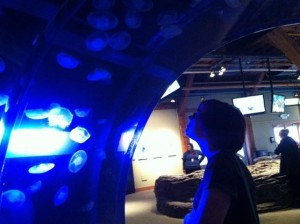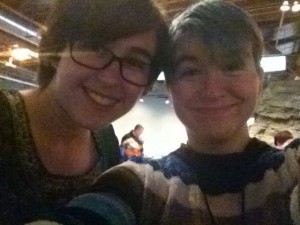 4) My trip to the UK on University of Oregon's Fantasy on the Fringe program. I had never travelled outside the United States before this year, and I was pretty terrified, but this program was an absolutely incredible first foray into international travel. I cannot describe what an incredible experience this was.
5) The Race & Pedagogy National Conference in September, where I presented a paper and took part in a panel. I feel so lucky that I even got to attend that conference, let alone take part in it in any way.
6) Halloween… Well, I think this photo just about sums up my Halloween: 
6) My mother and sister visiting me and seeing my holiday choir concert. We had a blast.
7) And, finally… I graduated college. I finished up all my classes, and I am officially done with the academics of undergrad. That's kind of a big deal… and after a full twelve months of continuously being in school of some kind or another, it is a huge relief.
Wishing everyone the best in 2015!