A few weeks back was the Emerald City ComicCon in Seattle, which is typically one of the highlights of my year. I've gone every year since I've moved up to Washington for school, but this year it was especially exciting, because of a few of the people attending just so happened to be the people whose creative work has recently had a huge influence on both my life and my academic work.
I've been working on my gender studies thesis this semester, and I've been focusing on queer narratives in Internet storytelling (like video webseries, podcasts, and webcomics). My two main primary sources are the podcast Welcome to Night Vale, and the webcomic The Less Than Epic Adventures of TJ and Amal. Both of these are really fantastic stories with queer main characters, so all semester, I've been analyzing these stories and their impacts on their audiences, falling totally in love with the characters and the storytelling…
And then Emerald City ComicCon happened, and the writers of Welcome to Night Vale AND the artist of Less Than Epic Adventures were all there.
Basically… I got to meet the creators of my thesis primary sources.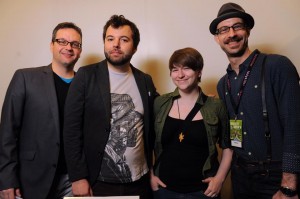 First me with the Welcome to Night Vale crew. Left to right: Jeffrey Cranor (writer), Joseph Fink (writer and producer), myself, and Cecil Baldwin (voice of the podcast)
Second, me with E.K. Weaver, the artist and creator of The Less Than Epic Adventures of TJ and Amal. 
I told all of them about my thesis, and tried not to geek out too badly about meeting them, but the fact is, both of these stories are really incredible works with wonderful characters, and I absolutely love how influential they have been for queer audiences and straight audiences alike. Looking at these stories so closely through my thesis has given me such a huge appreciation for the creative geniuses behind them, and getting to meet those people, even briefly, was such an amazing experience. They were all so gracious and seemed legitimately excited that I've been drawing so much of my thesis from their work.
Now I just have to make sure my thesis does them justice… but that shouldn't be too hard, right? Talking for 25+ pages about these awesome stories and queer characters that I love a lot? Piece of cake.
(Check out the podcast at commonplacebooks.com, and the webcomic at tjandamal.com. They're both really wonderful and worth checking out.)