So if you've ever had to interact with me during the month of October, you'll probably know that I'm an absolute Halloween fanatic. I always try to go to as many Halloween-related campus activities as I can, and it just so happened that the majority of fun spooky activities this year all took place the day before Halloween. So of course, I tried to cram in as much Halloween festivity as I could into one evening. The first item on my list was Bat Night at the Slater Museum in Thompson Hall.
There were thousands of bat specimens to study–plus some great bat costumes from both the student volunteers and the guests! There was even a live bat, a fifteen-year-old fruit bat named Indy. I couldn't get very great pictures of him, but he was adorable:
Next up was the English department's Halloween themed open mic night! I couldn't stay for the entire time, but while I was there I did get to hear some fantastic music and spooky poetry from some of my fellow English majors.
Also Elvis was there, that was pretty exciting.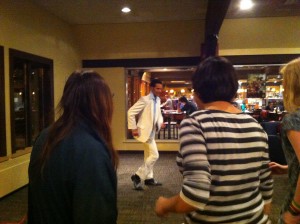 Next I went to see some friends perform in a Student Initiative Theatre production, Then Spoke the Thunder. 
It was an original play written and directed by student Jake Rosendale–not specifically Halloween-related, true, but I thought the play was really quite spooky in intensity. Much of the play was a theatrical adaptation of the works of T.S. Eliot, who I've loved ever since studying him in my first English class at this school, so naturally I adored the play.
Afterward, my roommates and I went to the haunted house at Phi Delta Theta. I didn't take any pictures in the haunted house because I was too busy being terrified, but I doubt that any cell phone camera could do justice to how fantastically spooky that haunted house actually was. Apparently one of the guys in there was taking pictures of people being scared, though, because I was just tagged in this beautiful photo on Facebook:
It was so much fun, and very well put together. Plus all proceeds went to the Amyotrophic Lateral Sclerosis Association (ALSA) to help find a cure for ALS, so that was extra awesome.
My actual Halloween has been pretty quiet compared with all the Halloween fun yesterday. I went to class in my Bilbo Baggins costume, because I will jump at literally any opportunity to wear my hobbit slippers; and I went to a meeting for Crosscurrents Review tonight. (Which reminds me: if you're considering submitting to Crosscurrents, time is running out! Submit your art, poetry, or prose to ccr@pugetsound.edu by November 6.)
But other than that, I've just been hanging out with my roomies, giving out candy to adorable children, and carving jack-o-lanterns.
Happy Halloween to all!