Puget Sound students have a terrific resource for building global competencies and preparing for international opportunities. MyWorldAbroad can help you research and explore so that you are best prepared for a global marketplace. Here are three reasons to give it a go:
Reason #1: Explore What You Want to Do Abroad
Considering study abroad as a part of your academic experience? Hoping to intern in another country? Contemplating teaching outside of the U.S.? These possibilities and more are covered in the "What Do You Want to Do?" section of MyWorldAbroad.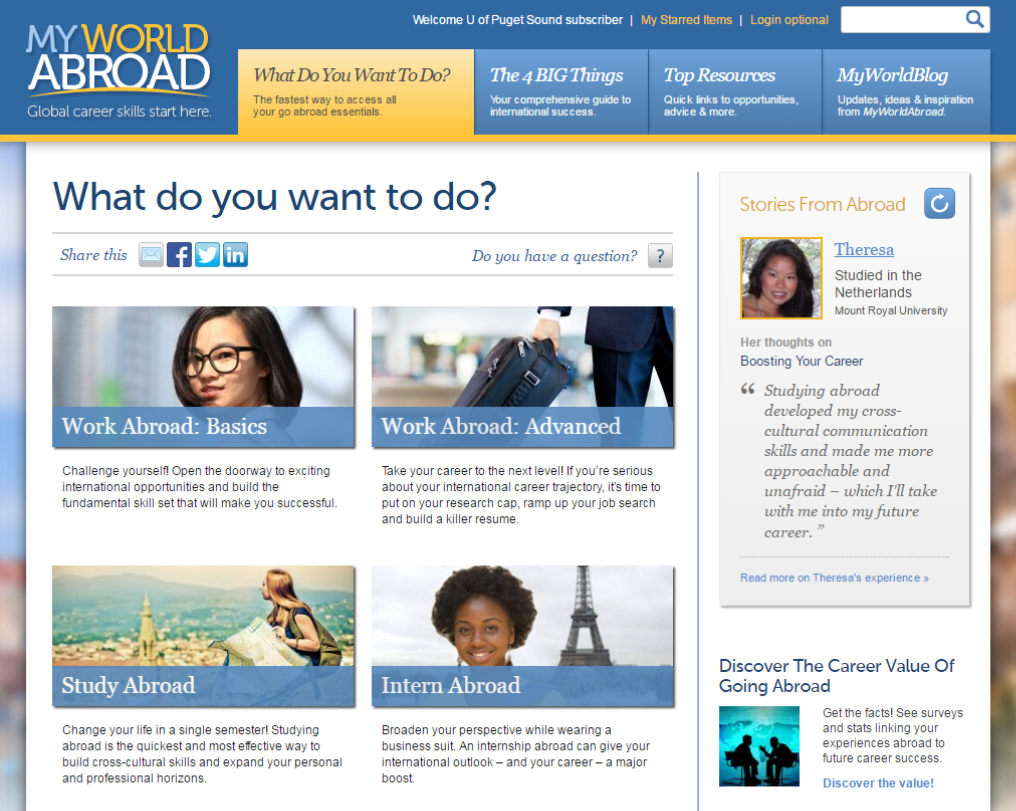 Whether you're determined to impact the world through a particular social justice cause or simply want an enriching international adventure, you'll find helpful information and options.
In addition to the possibilities listed above, other topics include:
Working Vacations
Learning a Language
Building International Skills
Working Abroad
"One of the most common questions we get from students is about teaching English abroad,"shares Sue Dahlin, Career and Employment Services' Employer Relations Manager. "This tool has great articles about what you should know before going abroad—a little or a lot!"
Looking for a brief overview of specific subjects? Check out the "Quick Guides."
Reason #2: Build Your International IQ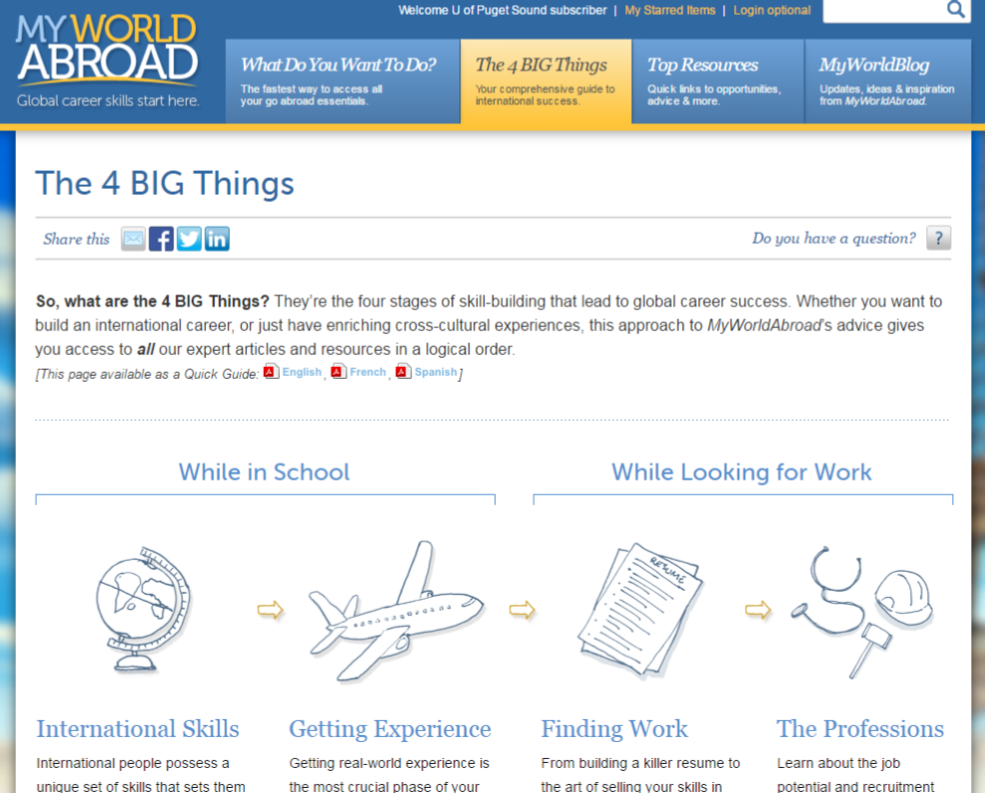 Develop skills to be successful in international roles.
Learn how to write an impactful CV.
Find out what makes an effective employee with organizations overseas.
Uncover myths and realities you'll face when applying for internships and jobs abroad.
Get tips for dealing with re-entry shock when returning from studying or working abroad.
"The 4 Big Things" section addresses these issues and many others in its "International Skills" section.
Another IQ-building feature, "Stories from Abroad," highlights students and recent graduates from a variety of colleges who offer advice after returning from experiences abroad—including interning in Panama, volunteering in the Democratic Republic of Congo, working in Vietnam, and studying in Italy. Look for links like the one below to read personal stories and learn from other students' journeys.
Have your own story to share? MWA offers a mini-honorarium when your story is published.
Reason #3: Discover Opportunities for Working Abroad
In addition to in-depth resources on international topics, MyWorldAbroad offers access to job and internship databases.
These listings only include positions that students and recent grads in the U.S. would qualify for and are organized by fields like healthcare, science, environmental, au pair, engineering, and law.
Where to Find MyWorldAbroad
You can access MyWorldAbroad on the CES Career Resources webpage. Log in and check it out!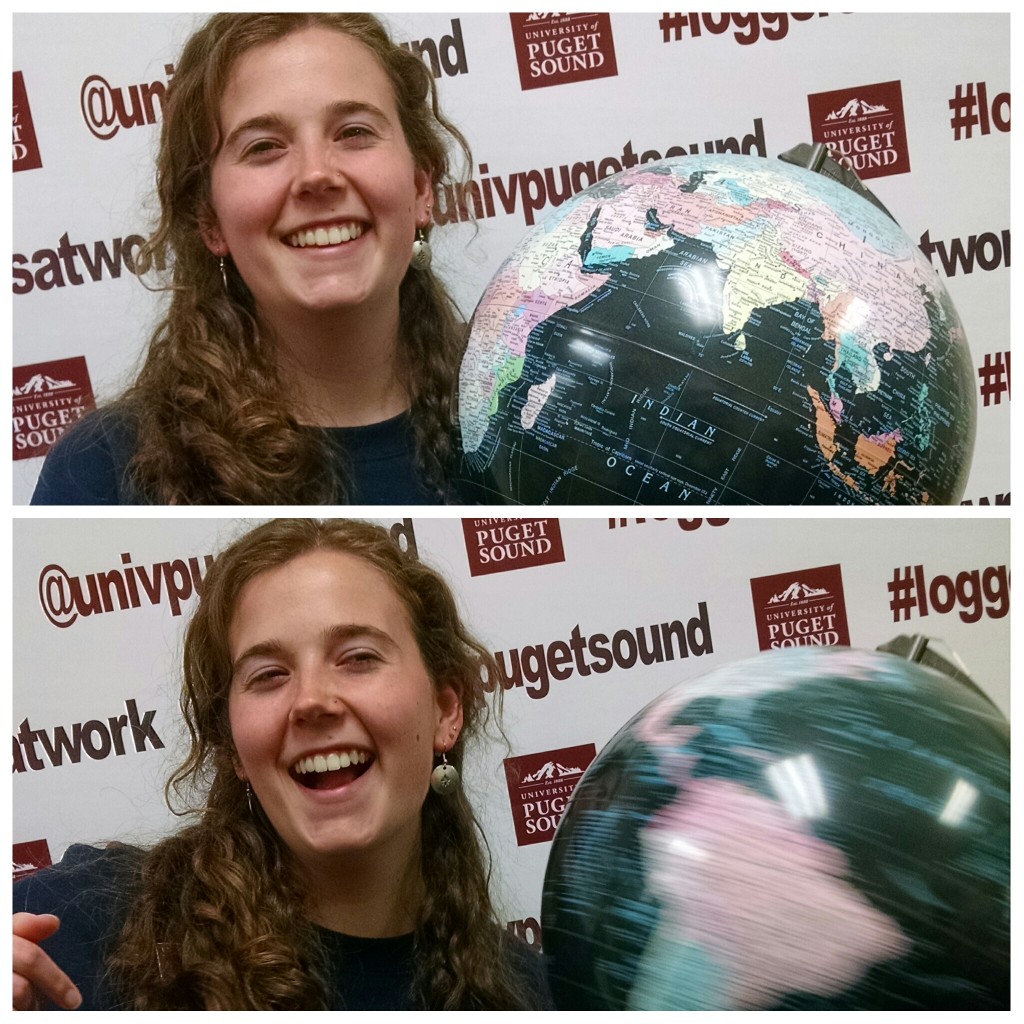 With so many Loggers expressing interest in life and work abroad, this new resource can be a tool in building awareness, developing skills, and opening doors to the international experiences of your dreams!
Have questions or want help maneuvering through MyWorldAbroad? Visit CES in Howarth 101 to chat with a career advisor or call 253.879.3161 to set up an appointment. We look forward to hearing about your international goals!
Photo Credit | Aubrey/Globe Collage: Kris Hay
© 2016 Career and Employment Services, University of Puget Sound
Save
Save
Save
Save
Save
Save
Save