For my first trip, I'm glad I picked London.  I was there years ago, when I was a sophomore in high school, and I remembered loving it.  I'm happy to report that I still love it!  I went with two of my housemates and another girl from my program.  We took RyanAir, which was an hour-long commercial that was cheapcheapcheapcheapcheap so I didn't mind, and the bus we took from the airport dropped us right in front of the Sherlock Holmes Museum!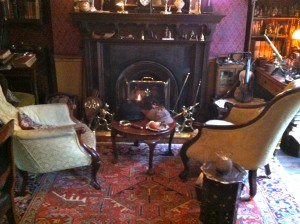 It had some excellent recreations of all the different rooms and cases.  I'm a major fan of Sir Arthur Co and the adaptations that have happened to Holmes and Watson through the years, so it was a delightful experience.  We dropped by the hostel afterwards, deposited some of our things, and then headed off to King's Cross Station, which had definitely gone through renovations since the first Harry Potter came out.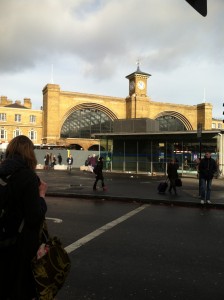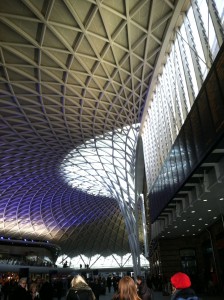 At least they still have Platform 9 3/4!
Ravenclaw represent!
We hit the British Museum next, which was pretty standard in terms of amazing art and ancient wonders.  They did have a beautiful temporary exhibit on some very fancy statuary.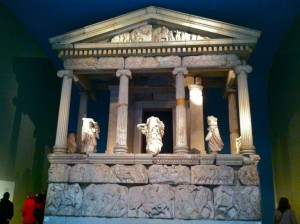 The displays were magnificent.
We kind of wandered after that.  London is an excellent place for wandering.  There was a lovely nerdy shop where I purchased a bunch of superhero buttons.  If only I'd been able to find Pax Romana… Sigh.  Someday I'll get that comic.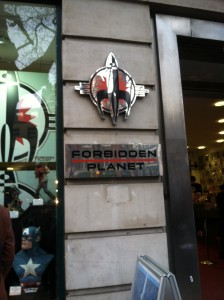 We found Buckingham Palace as it was getting dark.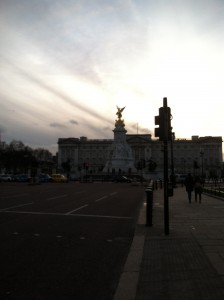 Then it was time to see Wicked and go to bed after being awake for almost 24 hours!
Day Two started with a delightful walk in Hyde Park.  I think my favorite thing I saw there was the Princess Diana Memorial Fountain.  It was like no fountain I'd ever seen before.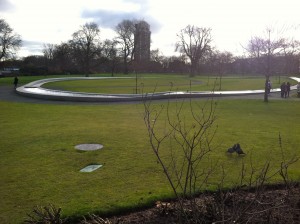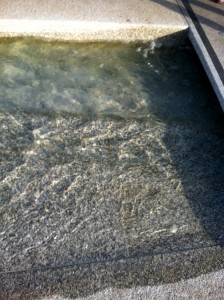 Water flows both ways and meets under a foot bridge!
We hit Harrods next and really, the only way I survived that traumatic experience of seeing prices tags was by pretending Harrods was actually a museum.  Everything was a priceless artifact.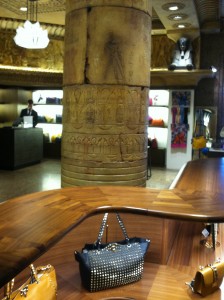 They did have an ice cream parlor on the top floor, though.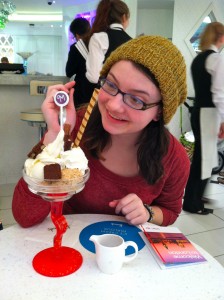 Boo yeah, brownie sundae to myself.
Interestingly, Harrods also had a memorial.  Names of men dead in the first World War were up on a wall, including what departments the men had worked in.  They were called "Harrodians," and I thought it was wonderful that such a classy store acknowledged those employees who had supported their country during a time of strife, even those men who had worked in tailoring or china or saddlery.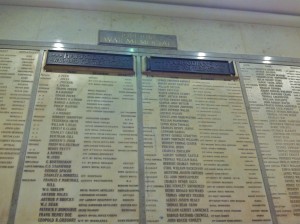 We took the Tube after this but it turned out two major lines that run along the North side of the Thames, the District and the Circle lines, were closed all day.  Needless to say, we were pissed.  It meant a lot more walking and a lot more Tube rides that took us out of our way.  We crossed the Blackfriars Bridge and experienced an incredible view, though.
We made it to St. Paul's Cathedral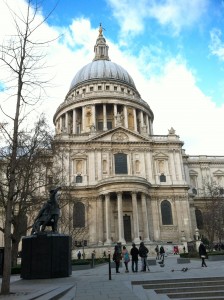 and the Tower of London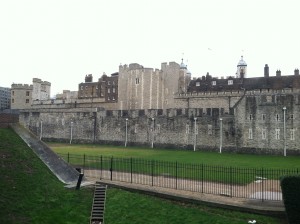 before we all started to get a little grumpy.  We had a mission though.  We were going to make it to Westminster Cathedral.  No, not the Abbey, the Cathedral.  This guy: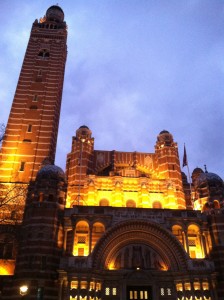 Despite the fact that tensions were high, the minute I stepped in there I felt an enormous amount of peace.  I started wandering off to all the little nooks and crannies they have set aside for saints and such.  A lot of people seemed annoyed by the fact that I was taking pictures but I didn't really care.  I was respectful of their space, kept very quiet, and took photos as fast as possible.  There were just some things I needed to capture so I wouldn't forget how beautiful it was in there.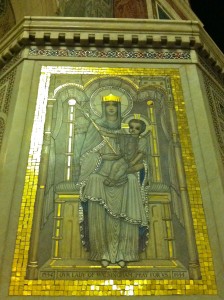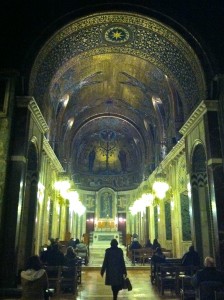 I'd never heard of the Cathedral before but it was a truly amazing space.  I love old churches and this one had some great Latin for me to try and translate.  The mosaics were vibrant and the hush over the whole building was incredible.
Even though there were a lot of frustrations on this trip and more than a few clashes, I loved sightseeing.  This trip helped me understand the value of wandering and getting lost, of a really good pair of shoes, and of choosing your travel companions wisely.  Here are a couple suggestions of travel companions:
Pick people who have interesting ideas about what they want to see!  If you want to go to a city and see a lot of it, find someone with planning skills (or be the one with planning skills) and get ready to take in as much as you can.
Pick people with a similar mindset when you're going into the journey!  If you want to wander and they want to walk with purpose, you're going to clash.  It helps if you can accomodate both perspectives, though, because you find some great things when you don't have a fixed destination.  Even if you do have somewhere to be, don't set a time and instead allow yourself to look into shops as you pass by.  You'll find some wonderful little spots that you don't read about in mainstream guidebooks.
Pick people who like some of the same things you do!  If you're a foodie and they're a foodie, you know what you're gonna be doing on the trip; eating everything.
Above all, stay positive.  Enjoy the city you're in.  There will be frustrations and trust me, you will not get to see it all in a weekend, but the city will still be there years down the line and really, Trafalgar Square isn't going anywhere.  At least that's what I tell myself.