With each year, the columns in The Trail changed as old writers and new writers came in. At the beginning of the 1964-1965 academic year, one of the new columns/features was the provision of comedic "proverbs" as if they were serious advice. They were mainly space fillers, and for the most part they were just placed in random spots throughout each issue. Like this one: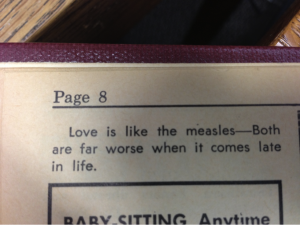 Pretty much all of them are dubious and kind of weird. I know that's supposed to be funny but…I don't get the humor.
In the first few issues, the proverbs were contained in a column entitled "Confucius Say". They were framed as if a non-native English speaker was writing them in the form of Confucian adages. I doubt that The Trail would run a column with this format, or at least worded this way, now. Some of the proverbs are hilarious.
From October 1, 1964: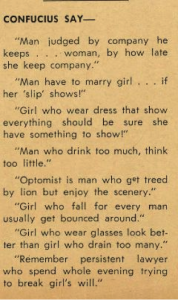 My favorite is hands-down "Girl who wear glasses look better than girl who drain too many."
From October 8, 1964:
These proverbs were very obviously things that everyone needed to keep in mind. They certainly provided some dubious advice.
By: Jillian Zeidner