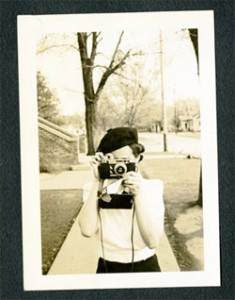 This week, April 21-27th, the nation celebrates Preservation Week and we're doing our share of celebrating this week at Collins Memorial Library! On April 23rd, Collins held a Preservation Basics Workshop in which archivists and librarians from Collins and the Tacoma Public Library went over methods of preserving personal papers, film, and photographs.  Overall it was a wonderful, informational event which helped future at-home archivists learn the necessary practices of preserving important materials.
Throughout the year, however, preservation is a topic that is always on our minds in the Collins Archives & Special Collections.  The verb preserve means to maintain something in its original or existing state, an act that we as archivists perform through buying plastic sleeves for photographs or acid-free folders for personal papers.  However, to preserve also means to maintain or keep alive a memory or quality.  At Collins Archives & Special Collections, I feel the latter is our greater mission.
During my time as a student Archives Assistant, I have become more connected to Puget Sound's history than the average student; I've perused all the old issues of The Trail, traced the history of the hatchet as far back as it goes, organized University blueprints mapping out our school before it was even in physical existence, and seen the faces of thousands of "Loggers"—even before we were loggers! Because of the preservation practices that are followed at Puget Sound, I have had the opportunity to see a glimpse of what Puget Sound life was like long before I was ever born.  The spirit of Puget Sound is not something that can be physically preserved in a temperature-controlled room or a fire-proof vault; it lives within all of the materials we save in the Archives & Special Collections.  Through collecting and preserving photographs, personal papers, film, and much more—we maintain the memories, the qualities, and the spirit of Puget Sound for many more years to come.
To read past issues of The Trail online, visit Sound Ideas, and to see historic photographs from the University of Puget Sound, visit A Sound Past.
By Adriana Flores