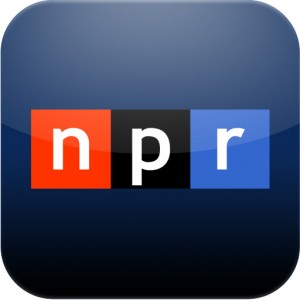 National Public Radio (NPR) delivers breaking national and world news, along with top stories from business, politics, health, science, technology, music, arts and culture.
From All Things Considered to Tiny Desk Concerts, Olivia Weitz '12 is experiencing NPR from the other side of the dial during her internship in Washington, DC.
Tune in as Olivia talks about her NPR internship and offers advice to students who are planning to apply.
CES: Olivia, thank you for joining us. (Yes, we're imagining Terry Gross conducting this interview.) What is your role at NPR?
OW: Hi there! I'm currently interning with AIR, which is NPR's Audience Insight and Research department for programming, corporate sponsorship, and digital (NPR apps). Basically, AIR communicates who the NPR audience is, what they like, and how they are listening.
Day-to-day tasks involve collecting information from databases and surveys about the NPR audience. One of my favorite experiences so far was listening to TED Radio Hour podcasts and coming up with questions to test if audiences liked the content and dynamics between hosts. And yes, interns can attend Tiny Desk Concerts.
CES: Tell us about your process of finding and applying for your internship. What was challenging?
OW: I looked into interning with NPR in Seattle, but I realized that the AIR internship in DC was more aligned with my interests in media research.
While applying, I tried to get in touch with prior interns and people who worked with NPR in the past. The phone interviews were challenging, so I'd recommend creating a searchable online presence, whether that's through Twitter or articles you've written for the Trail.
CES: What's one interesting thing you're learning at your internship?
OW: Even though everything is going digital, radio is still relevant. With mobile apps, radio can go anywhere!
CES: How is this internship helping you with your career exploration?
OW: The other NPR departments are very open to informational interviews and attending their meetings. This gives me a chance to learn more about NPR and the media industry as a whole: it's changing a lot!
CES: You graduated a year ago. What are you finding to be the benefits and limitations of pursuing a post-graduation internship?
OW: One benefit is that I can use the resources around me to look more into permanent positions. Also, joining the workforce through an internship is providing me with a social group of other people with similar interests, which is nice when moving to a new city.
As far as the limitations, I feel a bit more pressure about 'landing' a job afterwards. Some people in DC intern for awhile though—and everyone is in a different phase: some are in undergrad, some graduated, and some are in graduate school.
Another thing to consider…it's very common here at NPR—and in DC in general—to take a semester off school to intern. The other intern in my department took a semester off from undergrad to participate in the program.
Bottom line: it's never too late or too early.  Everyone has a different path, and some of the best advice I've received is "where you start doesn't have to be where you end up."  If you want to start exploring early, go for it!
CES: What advice would you offer other students who are considering an internship with NPR?
OW: If you don't have radio experience, it's better to try to intern in digital media, editorial, or news administration; you might also consider internships at NPR development, diversity, customer development, marketing and communication, finance, etc.
If you have radio experience or a lot of experience with journalism/media, then shows like All Things Considered or Morning Edition are great. Besides these, I think a lot of UPS'ers would be interested in the Science Desks, and there are typically more internships with Science. Also, NPR music is where it's going. Puget Sound has a really great college radio station—if you talk up the MTV college radio show award and DJ'ing for music, you might be able to get in here.
NPR likes the Seattle area, because KUOW is very listened to and respected, so coming from Puget Sound is a bonus, and good to talk up during the interview.
If you're interested in public media in general, look at where the shows are located and where public media is big—Chicago, Minneapolis, Boston. On the local station websites, opportunities are posted.
In addition to LoggerJobs and InternshipLink, here are three other databases that are very useful for finding internships/jobs, etc. in government/media here in D.C.: TomManatosJobs.com, Indeed.com, and MediaBistro.com.
Whether you take a semester off, or pursue a post-graduation opportunity with NPR, CES can help you hone your application materials. This is CES: We're here for you!
© 2013 Career and Employment Services, University of Puget Sound
Photo: Olivia Weitz; NPR.org